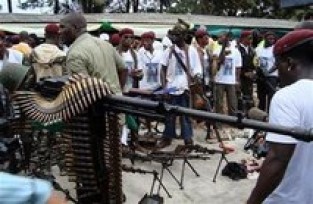 Emma Amaize
2 October, 2011, Sweetcrude, WARRI- THE Presidential Committee on Amnesty, Abuja, weekend, opposed the claim by a group of ex-militants, under the aegis of Transformed Niger-Delta Ex-Militants Forum that about 12,000 of them who passed through transformational training at Obubra camp, Calabar, Cross River state , have not been paid their monthly stipend.
The ex-militants in a letter, addressed to President Goodluck Jonathan, signed by their chairman, Prince Meshach Bebenimibo and two others, demanded immediate payment of monthly stipends and housing allowance for the year, 2009, 2010 and 2011 as well as posting to chosen institutions of learning and training for all those that had completed their transformation training.
Head, Media and Communication, Amnesty Office, Mr. Henry Ugbolue, who reacted to the allegation, stated, "The Amnesty Office is not owing any ex-agitator monthly stipend. Anyone claiming he is being owed is an impostor. All ex-agitators enrolled in the amnesty programme are well aware that the Amnesty office never ever owe them. Usually, we pay on or before 28th of every month".
"Yes, a number of ex-agitators who had passed through the demobilisation phase in Obubra are awaiting placements in training or skill acquisition centres, they will be placed, the processing is a tortuous process."
"Already about 5,200 of the 20,192 that passed through Obubra have been sent to training centres. Others are on queue and the Special Adviser to the President on Niger Delta, Hon. Kuku is working round the clock to achieve their placements in reintegration centres", he added.
But the ex-militants who carried out a peaceful protest, February 23, in Abuja over the matter maintained that the promises made to them by the Federal Government, which sent the director general of the State Security Service, Commissioner of Police, Abuja, representative of the Amnesty Office to talk with them, have not been fulfilled.
However, the ex-militants threatened to register their grievances through any means posssible if the government refused to address their plight.