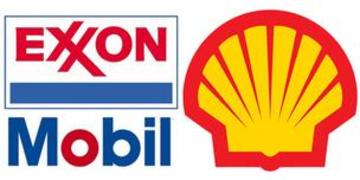 OpeOluwani Akintayo
with agency report
29 January 2018, Sweetcrude, Lagos — Analysts have said Shell is likely to report $16 billion of profit, while Exxon is forecast to report $15.7 billion in 2017.
According to forecast data obtained from Bloomberg, Shell's earnings were said to have been helped by the acquisition of BG Group Plc.
If the forecast comes to be in few weeks' time as both companies are expected to release their 2017 report, Exxon's $15.7 billion puts it behind Shell for the first time in at least two decades.
Shell is also likely to have spent more money on operations than Exxon last year.
Van Beurden had bought into the $53 billion BG gas deal when oil prices crash started in the middle of 2014, just months into his
tenure as Shell's boss.
The deal immediately put Shell almost at par with Exxon, above the likes of Total SA and BP Plc.
And as oil prices continued to slide in 2014, many analysts thought the price was too much, forcing Shell to borrow heavily.
The company was forced to cut costs, sell assets and rein in spending to keep borrowing under control.
However, in the two years since the BG deal closed, Shell's B shares in London, the most widely traded, have returned more than five times Exxon's, reversing the performance of the previous two years and providing superior returns for shareholders.
"Strategically BG was the right deal," said Iain Pyle, the investment director for U.K. equities at the investment unit of Standard Life Aberdeen Plc, among the largest Shell shareholders.
"The only question about it at the time was the price they paid and the stress they put on the balance sheet to do the deal."
In 2015, before Shell announced the BG deal, Exxon's market value was about $180 billion more than Shell's and it had just reported an annual profit $10 billion higher.
Since then, Exxon has struggled to keep the business growing.
Exxon's production in the third quarter was 1.8 percent lower than a year ago while Shell's rose 1.7 percent.
The American company's oil and gas reserves have also dropped (though this may change this year as it booked reserves from a giant discovery off the coast of Guyana in South America.)
According to Bloomberg Analysis, the gap in the two companies' market value has more than halved to about $73 billion.
Shell's record takeover fueled speculation Exxon would also get a big deal to maintain its world-leader status, however, the company had since gone for smaller deals.
The $35-billion purchase of American shale gas company XTO in 2010 came shortly before gas prices dropped.
It also struck a deal with Rosneft PJSC to explore and develop giant offshore fields in Russia in 2011 before the company got involved in a legal battle.
These left its "upstream portfolio disadvantaged," Credit Suisse said.
Exxon also bought into LNG projects in Mozambique and Papua New Guinea, expanding its shale properties in the U.S., and focusing on exploration in South America, especially Guyana and Brazil.
At Shell, Chief Executive Officer Ben van Beurden said taking the top position from Exxon is its priority.
"At the moment we are number two and we are closing in on number one," he said this month. "We almost have the tiger by the tail."
Investors have also said Exxon's strategy by its former CEO Rex Tillerson, has pushed it off focus.
"Ben doesn't just talk the talk, he walks the walk now," Richard Hulf, co-manager in Artemis Global Energy Fund, part of a London investment management group that owns both Exxon and Shell shares. "Shell's got a bit better and Exxon is at a weak point in its cycle."