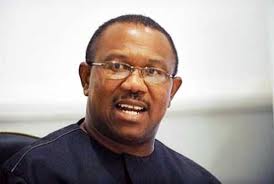 Vincent Ujumadu
08 January 2013, Sweetcrude, Awka – A petrol tanker driver driving against the flow of traffic, Monday, in Onitsha received the shock of life as he came face-to-face with Anambra State governor, Peter Obi along the ever busy Onitsha-Owerri federal highway.
Obi, who was on official duty at the time of the incident, personally intercepted the lorry with number plate ENUGU XY260 ENU and other vehicles following it behind.
Typical of Onitsha residents, many people abandoned their businesses and gathered to witness the development, while other vehicles also driving against the flow of the traffic turned back, thereby causing more traffic jam in the area.
The governor, who repeated his earlier warning to motorists and other road users going against the traffic, described the practice as barbaric, adding, that it was capable of causing multiple accidents on the road.
He made it clear that going against traffic constitutes a serious threat to other road users with the attendant traffic congestion.
He charged security operatives to be alive to their responsibilities to ensure that nobody drove against the traffic on any road in the state.