*Russia, Kazakhstan, Egypt have already freed up currencies
*Move 'a long time coming,' says fund manager Neuberger Berman
07 January 2018, Luanda — Angola is poised to become the latest emerging nation to abandon its currency peg as it seeks to rescue an economy still reeling from the oil-price crash four years ago.
The southern African nation, an OPEC member, said this week it would let the kwanza trade within a new band. The rate at which it's been fixed against the dollar since April 2016 "does not reflect the truth," according to Jose Massano, who became central bank governor in late October.
It joins a long list of commodity exporters — from Russia to Egypt, Kazakhstan, Nigeria, and Uzbekistan — that have floated or devalued currencies in a bid to end crippling shortages of foreign exchange and revive economic growth.
"It was a long time coming," said Kaan Nazli, a strategist at Neuberger Berman Europe Ltd. in The Hague, which manages almost $300 billion, including Angolan Eurobonds.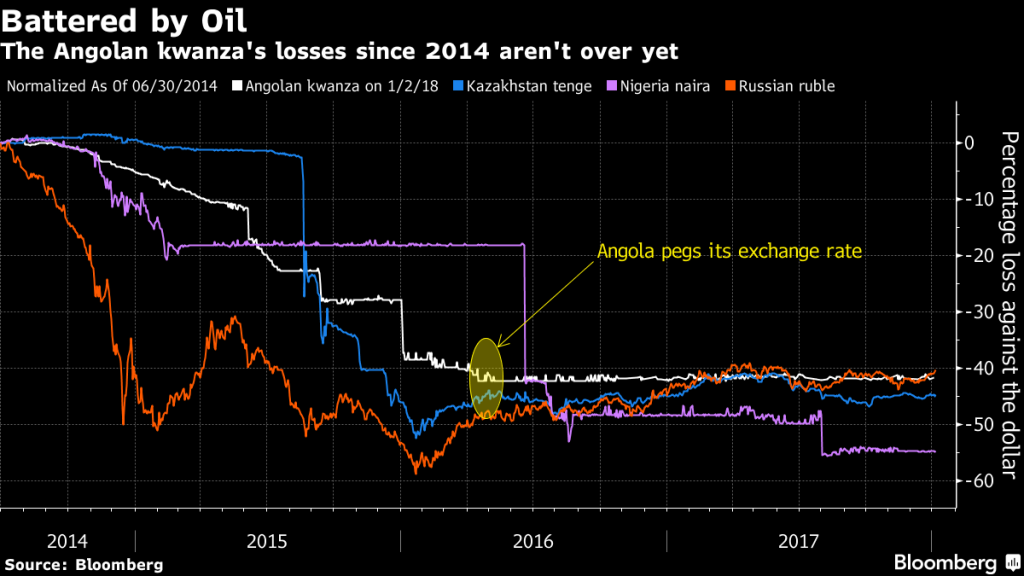 The move underlines just how forcibly President Joao Lourenco is trying to bolster his nation's finances three months after he replaced Jose Eduardo dos Santos, who ruled the former Portuguese colony for almost four decades. In addition to appointing Massano, Lourenco has replaced the heads of the state oil and diamond companies and started opening up the telecommunications sector to more competition.
Angola, which relies on oil for more than 90 percent of exports, kept a tight grip on its currency as the commodity slid. While the kwanza has already weakened 40 percent to 166 per dollar since mid-2014, analysts say it's still too strong. Charles Robertson, Renaissance Capital's London-based chief economist, said in a note Thursday that the kwanza was the most overvalued of the more than 50 currencies he analyzes and that its fair value was 348 to the greenback.
The currency has tumbled to 430 on the black market as dollars run dry, leaving hundreds of companies struggling to pay foreign workers and overseas suppliers. The economy contracted in 2016 after expanding an average 9 percent annually in the preceding decade.
Angola has bled reserves — which more than halved in the past four years — to defend the peg. The dos Santos administration said it was the best way for the import-dependent nation to curb inflation, which stands at 28 percent.
A currency depreciation of 30 percent over the next year would probably improve Angola's fiscal balances while also ensuring foreign debt remains manageable, according to Neuberger Berman's Nazli.
Still, a devaluation alone may not be enough given the nation's tight capital-account controls and lack of kwanza-denominated securities to attract investors, according to Paarl, South Africa-based NKC African Economics. Angola is one of the few major African economies without a stock exchange.
"While a more liberal stance on the Kwanza is certainly welcome, we would argue against an immediate move toward a completely free float," NKC analyst Cobus de Hart said in a note Thursday. That would raise the risk of the currency "spiraling out of control" and it "may not lead to a significant amount of foreign-exchange inflows initially due to the lack of developed stock and domestic debt markets."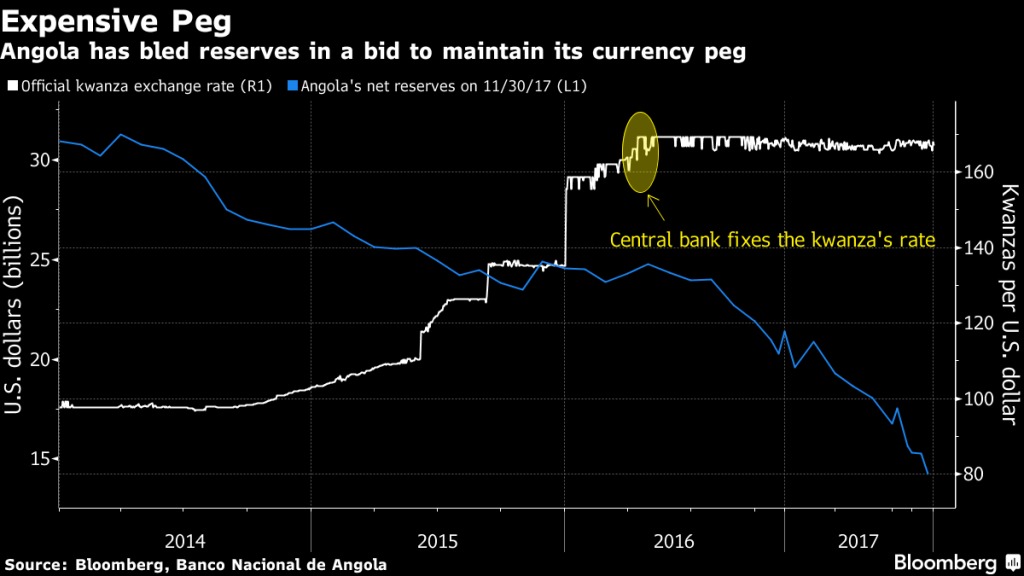 Finance Minister Archer Mangueira said late Wednesday that he would also "renegotiate our debt with our main partners throughout 2018."
After his statement, yields on the government's $438 million of securitiesdue in 2019 rose 25 basis points, although those on its $1.5 billion of Eurobonds maturing in 2025 fell. The finance ministry later said it was committed to servicing both foreign and local liabilities.
Much of Angola's roughly $40 billion of foreign debt is in the form of bilateral lines from nations such as China or loans taken on by Sonangol, the state oil company.
"The government is more likely to focus on renegotiating the Chinese loans and the debts taken on by Sonangol," said Nazli. "The Eurobonds only make up a small proportion of the external debt."
*Paul Wallace – Bloomberg