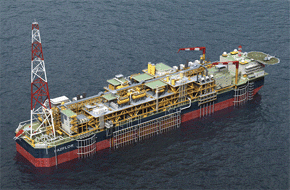 26 August 2011, Sweetcrude, Maputo – Total's mammoth Pazflor field in Angola has commenced production ahead of schedule, the French company said Friday.
The deepwater development, which the company said is one of the largest ever built, is expected to slowly dial up to production of 220,000 barrels per day.
The field was originally billed to come on stream in September or October.
A network of 49 subsea wells connected to the Pazflor FPSO is poised to exploit an estimated proved and provable reserves of 590 million barrels.
The field is about 160 kilometres offshore Luanda, Angola and wells are drilled in 600 to 1200 metres.
"Pazflor's start-up, several weeks ahead of schedule and within budget, is a remarkable achievement of the teams involved," said Yves-Louis Darricarrere, exploration and production president at Total.
"Paving a way with new technologies, the project showcases Total's expertise in highly complex environments."