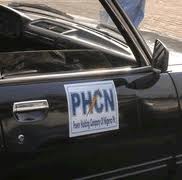 Tony Edike
22 February 2013, Sweetcrude, Enugu – The Power Holding Company, PHCN, Enugu Electricity Distribution zone, has raised alarm over the huge debts owed it by the armed forces and the police in the South East states, saying about N15 billion was outstanding as unsettled debts from electricity bills.
Chief Executive Officer of PHCN Enugu Electricity Distribution zone, Mr. Suleiman Yahaya, who disclosed this during the launching of the EMS2000 post-paid scheme, said the five state governments in the zone also owed the company about N1 billion.
He said: "We have about N15 billion outstanding for the zone comprising five states of Abia, Anambra, Enugu, Ebonyi and Imo states, even from the military, industrial and residential customers.
"All the five state governments in the South East combined are owing us about N1 billion. Everybody that we are providing services for must pay.
It is the law and everybody knows that. And they know that there are a lot of correspondences going on. The armed forces pay to our headquarters and they advise us to credit their account. This has not been happening for sometime now.
"So we are appealing that our debtors should see whatever they are owing us as a responsibility and pay. We have the records and on our part, we are talking with the state government but you know that it is difficult to collect money from the armed forces. We are working hard on that and hopefully they will yield to our pressure."
Yahaya, who noted that the electricity supply situation had improved appreciably in recent times, attributed the feat to improved power generation which has made it possible for Nigerians to have supply.
He noted: "It is of general knowledge that our supply situation has improved greatly because we have records of what we are giving everybody especially in Enugu Distribution Company because we have opened up everywhere and we are lucky to have enough generation to give everybody".
Explaining the reasons for setting up the EMS200 electricity bill payment scheme, the PHCN CEO, said that having realized that many people were finding it difficult to pay their bills, owing to inconveniences, the company decided to create an easy access for paying such bills either through ATM, mobile phones, and other e-payment methods.
Also speaking, Principal Manager Information Technology, PHCN Enugu zone, Mr. Michael Ekpo, said that under the new online real time billing and payment scheme, "the old databases of AVR and Spectrum have been integrated into the EMS2000 database which is postpaid.
According to him, the web-based billing system which involves automatic billing and SMS bill alert, automatic cash payment, effective billing efficiency and eradication of crazy billing, bugs and treats to billing processes, among other benefits, would create avenues for customers to settle their electricity bills in the convenience and comfort of their homes and offices.