Lagos — Asia is expected to lead the global new-build Liquefied Natural Gas (LNG) regasification capacity additions from the planned and announced (new-build) projects. These additions are expected to contribute around 56% of the global new-build regasification terminals' capacity during the outlook period 2019 to 2023, says GlobalData, a leading data and analytics company.
The company's report 'H2 2019 Global Capacity and Capital Expenditure Outlook for LNG Regasification Terminals – India Continues to Dominate Global Regasification Capacity Additions and Capex Spending' reveals that Asia is expected to add a new-build liquids storage capacity of 8.2 trillion cubic feet (tcf) by 2023.
Adithya Rekha, Oil & Gas Analyst at GlobalData, comments: "In Asia, a total of 47 terminals are expected to contribute a new-build capacity of 8.2 tcf by 2023. Of these, Bangladesh's Matarbari terminal has the highest LNG regasification capacity of 0.54 tcf. The terminal is expected to start operations in 2023."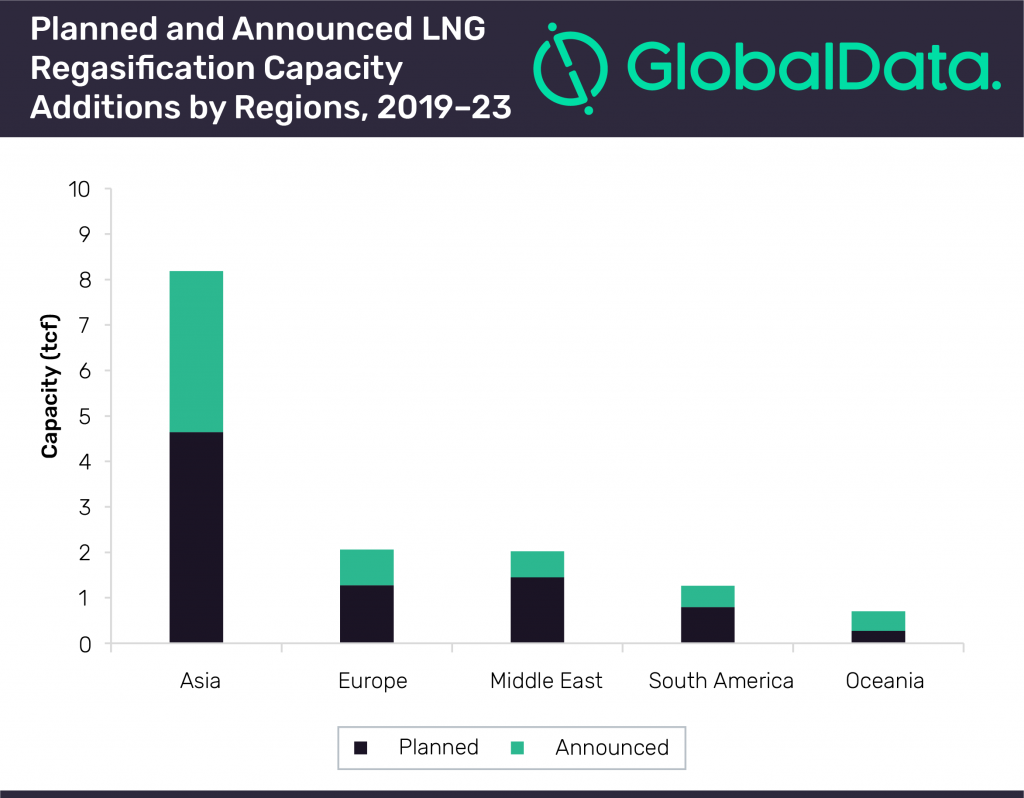 GlobalData identifies Europe as the second highest region in terms of new-build global LNG regasification capacity additions. A total of 10 planned and announced regasification terminals in the region are expected to add a new-build capacity of 2.1 tcf by 2023. Among the upcoming terminals in the region, Wilhelmshaven Floating terminal in Germany is expected to have the highest capacity of 0.35 tcf by 2023.
The Middle East stands third with new-build LNG regasification capacity of 2.1 tcf in 2023. The Al-Zour terminal in Kuwait would account for more than half of the region's regasification capacity. This planned onshore terminal is expected to come online in 2020 with a regasification capacity of 1.2 tcf.
Kindly like us on facebook