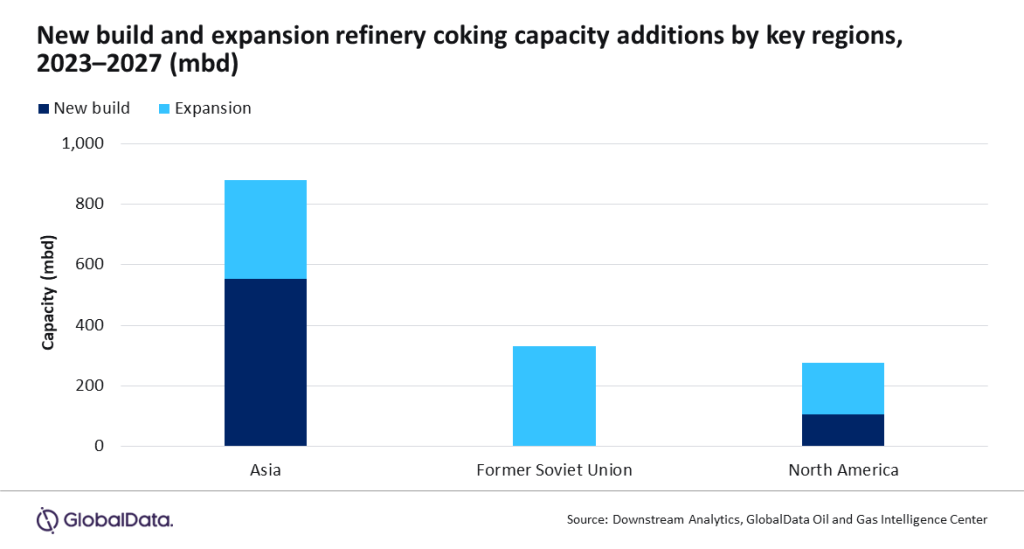 Lagos — Asia is set to witness the highest refinery coking capacity additions among all regions during 2023 and 2027, contributing about 50% of the total global capacity additions by 2027, says GlobalData, a leading data, and analytics company.
GlobalData's latest report, 'Refinery Coking Units Capacity and Capital Expenditure (CapEx) Forecast by Region and Countries including Details of All Operating and Planned Coking Units to 2027', reveals that Asia is expected to see a total coking capacity addition of 880 thousand barrels per day (mbd) during 2023–2027. Of this, 555 mbd of capacity is likely to be added from new-build refineries, while the rest is from the expansion of existing refineries.
Himani Pant Pandey, Oil & Gas Analyst at GlobalData, comments: "China and India lead in terms of coking unit capacity additions in Asia, jointly accounting for around 60% of the total capacity additions in the region by 2027. Growing demand for naptha and gas oils, petroleum coke, etc. is primarily driving coking unit capacity additions in these countries."
The upcoming coking unit expansion project at the Vadinar refinery in India is the largest upcoming coking project in Asia, with an expected capacity addition of 140 mbd in 2024. In China, Panjin II is the largest upcoming new build refinery with a coking capacity addition of 93 mbd in 2026.
GlobalData reveals that the Former Soviet Union (FSU) is another significant contributor to the global coking capacity additions, accounting for 19.6% of the total additions by 2027. Russia will account for the entire capacity additions in the FSU, with 330 mbd of capacity expected to be added by 2027.
North America follows the FSU, accounting for 16.4% of global coking capacity additions by 2027. The upcoming Dos Bocas refinery in Mexico is likely to add the highest coking capacity of 105 mbd in the region by 2027. Mexico also has two other coking unit expansion projects – Tula I and Salina Cruz – which are expected to add capacities of 86 mbd and 30 mbd, respectively, during 2023–2027.