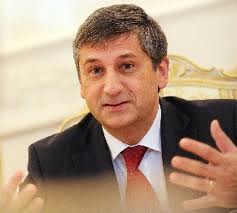 31 August 2012, Sweetcrude/African Press Organization (APO), VIENNA, Austria – "I condemn the executions carried out a few days ago and now confirmed, of nine prisoners who have long been under sentence of death in Gambia and I urgently appeal to the Gambian government not to carry out any further executions", Austrian Vice-Chancellor and Foreign Minister Michael Spindelegger said.
"This measure is especially regrettable, since Gambia has put an end to its practice of several decades during which death sentences have no longer been carried out", the Minister said.
The last executions in Gambia were carried out about 30 years ago, but last week President Jammeh made the fully unexpected announcement without giving reasons, that all death row prisoners in Gambian jails would now be executed by mid September. It has been reported that three persons among the nine executed at the end of August had been involved in an attempted coup d'état.
"Austria and the EU reject the death penalty as a matter of principle without any whys and wherefores. It is my hope that the Gambian government will react to the numerous international appeals and not carry out any further executions," Spindelegger concluded.