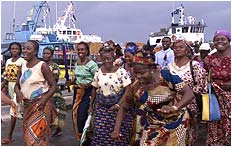 Emma Amaize
& Akpokona Omafuaire
25 January 2012, Sweetcrude, WARRI – IRATE placard-carrying women from Kolu-Ama community, Southern Ijaw Council Area of Bayelsa state, Wednesday, laid siege to Chevron Nigeria Limited (CNL) in Warri, disrupting business activities for several hours.
The women who occupied the company's gate as early as 7.00 am were said to be protesting alleged "insensitivity and neglect of the community", as well as the company's nonchalant attitude to their plight after a fire outbreak that engulfed its platform in the area January 16.
They sang war songs calling on the company to quit with immediate effect.
According to Mrs Epouitei Edi, wife of Kolu-Ama clan head and women leader, "Since Chevron came to our community; they have not impacted us positively. They refused to pay for scholarship or give us basic infrastructures.
"Oil spillage ravaged our community before the gas explosion; they wanted to cover it up when it occurred. The incident has hampered our economics activities of farming.
"Since its occurrence, Chevron only came to evacuate their staff; they just left the fire to continue to billow. From what is happening, they cannot put off that fire in a month time."
The protesters vowed to occupy the company's gate until their demands are met, vowing to resist every forms of intimidation.
Some of the placard bore inscriptions as, "WHO, save our lives", "No progress in Kolu-Ama" "Chevron must go we don't need your food" "Chevron put off the fire" "No fish in the river" "No hospital facilities".
Officials of the company declined to speak on the matter.