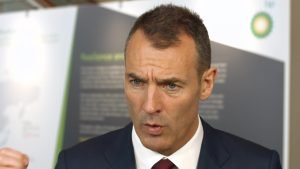 Lagos —
BP CEO
Bernard Looney resigned his position in the company on Tuesday for failing to fully disclose details of past personal relationships with colleagues.
Looney, who was appointed to the duty in early 2020, has spent less than four years in the oil major's top job.
The company said in a statement seen by SweetcrudeReports that Murray Auchincloss, the Company's CFO, will act as CEO on an interim basis.
The statement read: "In May 2022, the Board received and reviewed allegations, with the support of external legal counsel, relating to Mr Looney's conduct in respect of personal relationships with company colleagues. The information came from an anonymous source.
"During that review, Mr Looney disclosed a small number of historical 
relationships with colleagues prior to becoming CEO. No breach of the 
Company's Code of Conduct was found. However, the Board sought and was 
given assurances by Mr Looney regarding disclosure of past personal relationships, as well as his future behaviour.

"Further allegations of a similar nature were received recently, and the 
Company immediately began investigating with the support of external 
legal counsel. That process is ongoing."

It continued: "Mr Looney has today informed the Company that he now 
accepts that he was not fully transparent in his previous disclosures. 
He did not provide details of all relationships and accepts he was 
obligated to make more complete disclosure.

"The Company has strong values and the Board expects everyone at the 
Company to behave in accordance with those values. All leaders in 
particular are expected to act as role models and to exercise good 
judgement in a way that earns the trust of others.

"No decisions have yet been made in respect of any remuneration payments 
to be made to Mr Looney. In accordance with section 430(2B) of the 
Companies Act 2006, particulars of any such decisions will be disclosed
at such times as, and to the extent that, any such decisions are made.

"This announcement contains inside information for the purposes of 
Article 7 of the Market Abuse Regulation (EU) 596/2014 of 16 April 2014 
(MAR) as it forms part of domestic law by virtue of the European Union 
(Withdrawal) Act 2018."