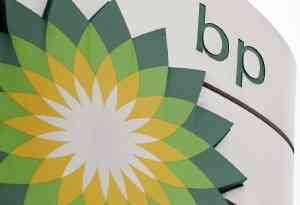 UK's BP Plc will spend at least $1 billion to increase its Alaska drilling activity over the next five years, the company said Monday.
The company's new investment could help Alaska stave off declining oil production and increased competition from the lower 48 states, where horizontal drilling and hydraulic fracturing have spurred an oil boom in recent years. Alaska slid into fourth place for US oil production in March, falling behind California for the first time since BP started drilling there in the 1980s, according to the US Energy Information Administration.
Although extreme weather and isolation from the main US oil markets makes Alaska oil drilling more difficult than in more recent fields in North Dakota and Texas, US oil demand is enough to make investing there still worth it, said Oppenheimer analyst Fadel Gheit.
"This is their backyard," Mr. Gheit said. "And when you have $90 oil, it makes sense to invest there."
BP said it plans to spend $1 billion over the next five years to upgrade existing facilities, increase drilling and well-work activity and add two drilling rigs in the Alaskan North Slope fields.
The rigs, expected to be in place starting in 2015, will increase BP's Alaska rig fleet to nine.
BP and partners ConocoPhillips and Exxon Mobil Corporation will also evaluate whether to spend up to $3 billion for new development projects over the next decade in the wider Prudhoe Bay region, BP said. BP is considering such projects as building new drilling pads and drilling more than 110 new wells, BP said.
"Our announcement today should make abundantly clear that BP is committed to being a part of (Alaska's oil) future and to continuing to extend the life of North America's largest oil field," said BP Alaska Region President Janet Weiss.
BP credited its decision to Alaska's cut in oil taxes. In April, the Alaska legislature overhauled its oil tax laws, including a 20% reduction in taxes collected for new oil produced, keeping taxes on profits a flat 35% and eliminating a system that increased taxes as oil prices went up.
Critics of the tax break have called the Alaskan bill a "giveaway" that will keep the state in deficit, and that projects being touted were already in the works.