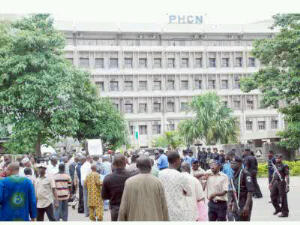 27 March 2013, Abuja – There were indications Tuesday night that the Bureau of Public Enterprises, BPE, and representatives of Power Holding Company of Nigeria, PHCN, workers were in the final stage of negotiations that would see an end to the crisis between the government and PHCN workers over payment of the terminal benefits of the PHCN employees.
A new committee known as the benefits and rationalisation committe, is handling the payment of about N384 billion package for about 50,000 workers of the PHCN.
The entire $2.6 billion (about N408 billion) expected by the
government as income from the sale of the PHCN successor companies would go to settling the PHCN workers.
With the investors having began to pay for the purchase of the
successor companies, the government has decided to ensure a seamless takeover of the companies upon the completion of final payments expected within the next three months.
The severance package for the PHCN workers will see each of the
employees going home with between N8 million and as much as about N40 million, depending on the qualifications, positions and length of service of the individual.