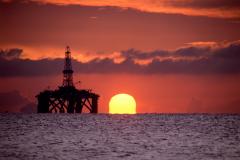 13 March 2013, London – UK Brent oil eased below $110 a barrel on Tuesday, weighed by slower oil demand growth in China and forecasted higher crude stocks in the United States.
China's implied oil demand rose 4.9% percent in February from a year ago to the fourth highest level on record, but the rate of growth was the slowest since September.
Adding pressure, crude stocks in the United States are expected to have risen for an eighth straight week.
Brent crude slipped $0.47 to $109.75 by 1035 GMT. US oil fell $0.21 to $91.85.
Despite the bearish overtones, market watchers expect oil to trade in a tight range.
"We still see rangebound macro-driven trading for Brent this week, with the market holding near early March lows," said Andrey Kryuchenkov,
analyst at VTB Capital.
Concerns over the demand outlook overshadowed the support oil had enjoyed from a strong US equity market.
But the same optimism over a revival in the US economy also bolstered the dollar, pushing the dollar index up 0.17%. A stronger greenback can weigh on dollar-denominated commodities such as oil.
China's implied oil demand rose to about 10.14 million barrels per day as refiners raised crude throughput.
Reuters calculations based on preliminary government data also showed demand in January rose 8.6% on the year to about 10.43 million barrels per day, the third highest on record, as oil firms replenished stocks before the New Year.
"China's demand will tick along at about a 5% growth per annum," a Singapore-based trader with a Western firm said. "That is not a very large increase because it used to grow over 10% in the past."
A preliminary Reuters poll of six analysts showed US crude inventories rising 2.4 million barrels in the week to 8 March. All six analysts forecast a build in crude stocks.
The poll survey was taken ahead of weekly inventory reports from industry group the American Petroleum Institute (API) and the Energy Information Administration, EIA.