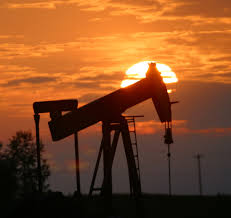 04 August 2014, News Wires –  Brent crude rose to $105 per barrel on Monday to come off of a four-month low hit in the previous session, with worries about global oversupply still outweighing concerns about violence in the Middle East and North Africa.
Forecasts for a supply glut in West African and European markets help to push the Brent benchmark down 3.3% last week, despite geopolitical tension in Iraq, Libya and Ukraine.
Strong US economic data that signalled a better demand outlook for oil in the world's largest economy was also unable to support crude markets against the surplus barrels.
Downward pressure on oil prices is likely to continue, chief market analyst CMC Markets Ric Spooner told Reuters, forecasting that Brent could drop further towards $100 a barrel.
"The geopolitical risk is still there … (but) the market has counted the risk premium in prices," he said.
Brent crude rose $0.16 to $105 per barrel by Monday morning after falling $1.18 on Friday to $104.84 per barrel, its lowest settlement since 2 April.
"We expect Brent to trade in a slightly lower range for much of the third quarter, barring any geopolitical escalation," Morgan Stanley said in a market note on Monday.
Brent is in its longest contango since early 2011, reflecting weak physical demand, the bank noted.
A contango market is when the front-month of a futures contract is trading at a discount to later months, signalling an expectation that prices will fall in coming months.
In Iraq, OPEC's second largest producer, Islamic State fighters seized control of the Ain Zalah oilfield in the north from Kurdish troops on Sunday, although the insurgents are not near major oil fields around Kirkuk.
Investors are also keeping an eye on Libya where fighting between rival factions led to a huge fire at Tripoli's fuel depot on Sunday as battles raged for control of the capital's airport in the worst violence since the 2011-NATO-backed civil war.
Ukraine government forces seized two towns on the outskirts of Donetsk from pro-Russia separatists on Saturday, bringing the army to the edge of one of the two major cities still in rebel hands.
"One can never rule out the immediate prospect of things deteriorating very fast," Spooner said, warning that any sign the conflicts are disrupting oil supply could quickly push up the market.
– Upstream