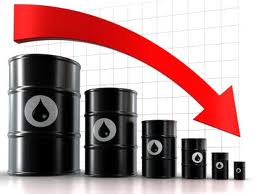 24 June 2013, News Wires – Brent crude dropped below $100 per barrel on Monday, its lowest in more than two weeks, hurt by a stronger dollar and concerns about demand from top oil consumers the US and China.
The European benchmark plunged nearly 5% last week in its biggest weekly drop since early April after Federal Reserve Chairman Ben Bernanke laid out a strategy for paring monetary stimulus, broadly sapping demand for commodities.
"Global money supply will be wound back and the level of investment in commodities like oil will be pulled back," said Michael McCarthy, chief market strategist at CMC Markets in Sydney. "In the long term the cessation of that huge stimulus is going to pressure commodity markets."
Brent crude was down 96 cents at $99.95 a barrel early on Monday, after dropping to as low as $99.85, its weakest since 3 June. US oil fell 80 cents to $92.89 a barrel.
The stronger dollar also hurt oil and other commodities priced in the greenback, including copper and gold, by making them more expensive for holders of other currencies.
The dollar mounted a two and a half week peak against a basket of major currencies, adding to its best weekly gain in 19 months that was triggered by the Federal Reserve policy plan.
US oil is expected to revisit its 18 April low of $85.61 a barrel over the next three months, with a good chance of dropping through this level towards the 28 June 2012 trough of $77.28, according to Reuters market analyst Wang Tao.
The three-month outlook on Brent shows a rapid drop to its 22 June 2012 low of $88.49 a barrel.
A dimming outlook for oil demand growth in China, the world's second-largest economy, also dragged on prices.
Manufacturing activity dipped to a nine-month low in June, raising fears the country could miss its growth target of 7.5% for this year.
"Policymakers in China are unlikely to be injecting more stimulus into the economy at the moment as Beijing is looking to rebalance the economy from one of consumption as opposed to an economy reliant on exports," said Lee Chen Hoay, investment analyst at Singapore-based Phillip Futures.
"This is likely to have an impact on manufacturing activity and as such oil demand is likely to be slightly hit. A further downward revision of oil demand can be expected inside the second half of the year."
Earlier this month, the International Energy Agency lowered its 2013 oil demand growth forecast for China to 3.8% from 3.9%.
– Upstream