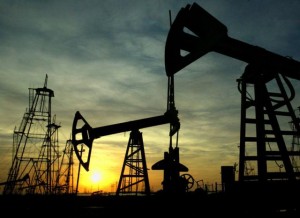 29 March 2013, News Wires – Brent futures held above $109 a barrel on Thursday on hopes of a revival in demand growth in the world's biggest oil consumer the US following a surprise fall in product inventories, while worries over Europe's debt problems capped gains.
Commodities staged one of their broadest rallies of the year on Wednesday as oil, metals and agricultural futures rose despite a stronger dollar, which usually tends to weigh on prices. But oil may struggle to gain much further because of a weak demand outlook in Europe and ample supplies.
Brent crude gained 3 cents to $109.72 a barrel early on Thursday, after settling 33 cents higher and testing resistance during the day near its 200-day moving average of $109.90. US oil rose 4 cents to $96.62, after ending higher for four straight days.
"US inventory data showed a fall in product inventories despite an increase in refinery utilisation rate. That implies a revival in demand in the country," said Victor Shum, senior partner at IHS Purvin & Gertz in Singapore.
"But I wonder if the gains are sustainable. There is the Europe issue, oil supplies are ample and crude inventory levels are comfortable."
US gasoline and distillates fell more than expected even as refinery runs increased, while crude inventories rose more than forecast last week, data from the Energy Information Administration showed.
Distillate stockpiles, which include heating oil and diesel, slumped 4.51 million barrels compared with forecasts for a draw of 800,000 barrels. Gasoline inventories fell 1.6 million barrels against forecasts for a 1-million-barrel draw, the report showed. Crude inventories jumped 3.26 million barrels against a forecast 700,000-barrel crude build.
Asian shares eased and the euro was hovering near a four-month low touched on Wednesday after a weak debt auction in Italy and as investors worried about a run on Cyprus's banks when they reopen later in the day.
Cyprus imposed restrictions on cash withdrawals and may curb the use of credit cards abroad to keep a rein on money flows after the country agreed to a bailout deal that will wipe out some senior bank bondholders and impose losses on large depositors. Cypriots are expected to besiege lenders in the morning.
The Italian government's cost of borrowing over five years rose to its highest since October at an auction on Wednesday, reflecting investor wariness over a lack of progress in forming a new government and worries about Cyprus's bailout. Italy's interest cost on new 10-year debt fell, however.
Investors are now awaiting employment data from the United States to see if the numbers will add to the recent string of positive indicators from the world's top economy.
"Nervousness about Cypriot banks re-opening today and the ongoing political gridlock in Italy also weighed," analysts at ANZ said in a note. "Tonight, we focus our attention on the US initial jobless claims, which have beaten market expectations for the last four weeks."