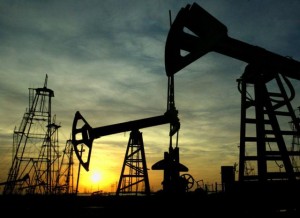 27 June 2013, News Wires – Brent crude rose for a fourth session in a row on Thursday to trade near $102 a barrel as weak US economic data eased concerns the US Federal Reserve will soon reduce its monetary stimulus, underpinning commodities.
Brent crude for August delivery, was up 24 cents early on Thursday, after settling 40 cents higher at $101.66 a barrel in the previous session, while US crude was up 10 cents at $95.60 a barrel.
US gross domestic product expanded at a 1.8% annual rate in the first quarter, down from a previous estimate of 2.4%.
"This is the clearest indicator that the US economy is now just taking baby steps towards recovery, and that is not enough to get the demand back to pre-2008 (economic crisis) levels," said Carl Larry, president of Houston-based investment consultancy, Oil Outlooks & Opinions.
"The weaker Q1 GDP numbers also show us that there are still blindspots in the US economy and that probably means the Federal Reserve will be very conservative in pulling the plug on stimulus."
The gains in the European benchmark were capped by an unexpected spike in gasoline inventories in the United States in the summer driving season.
US stocks of gasoline surged 3.65 million barrels to 225 million barrels in the week ending June 21, data from the US Energy Information Administration showed on Wednesday. Analysts polled by Reuters had expected a much more modest build of 900,000 barrels.
Brent is down 8.5% for the quarter, its third quarterly loss in a row, having slipped after Fed Chairman Ben Bernanke laid out a roadmap last week to ease off bond buying and on concerns about an economic slowdown in China.
Investors are now turning their attention to US non-farm payrolls data due next week to gain further clarity and direction over the US economy.
"This is the more definitive number for the Federal Reserve, because we know that they are comfortable with inflation levels, but unemployment is still not where they want it to be," said Lee Chen Hoay, investment analyst at Phillip Futures in Singapore.