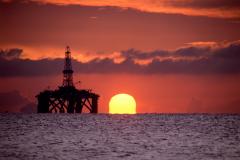 17 July 2013, News Wires – Brent crude oil slipped below $108 a barrel on Wednesday as the dollar gained ahead of eagerly awaited word from chairman Ben Bernanke on the US Federal Reserve's plan to roll back its monetary stimulus.
Oil, particularly the US benchmark, is also under pressure after an industry report showed a build-up in US gasoline stocks at the peak of the driving season.
Brent crude slipped 37 cents to $107.77 a barrel by 0942 GMT. US oil fell 56 cents to $105.44. The August Brent contract, which ended on Tuesday, had settled at $109.40, the highest finish since 2 April.
"Commodity prices are under pressure ahead of Bernanke. There's some negative impetus from external factors such as the somewhat stronger dollar," said Carsten Fritsch of Commerzbank.
"And it's normal for there to be some profit-taking with oil at these higher levels," he added. A stronger dollar makes oil more expensive, which dampens demand for fuel.
Bernanke is set to testify to Congress on Wednesday and Thursday beginning at 1400 GMT, and he may clarify when the central bank will roll back its $85 billion a month bond-buying programme.
His comments last week that accommodative policy would be needed for the foreseeable future surprised investors, who had bet on a scale-back as early as September.
Gasoline stocks rose 2.6 million barrels, against analysts' expectations in a Reuters poll for a 500,000 barrel draw, data from industry group the American Petroleum Institute, API, showed.
Distillate stockpiles, which include diesel and heating oil, rose by 3.8 million barrels compared with expectations for a 1.9 million barrel gain.
The product builds overshadowed a third straight week of declines in crude inventories. A decrease of 2.6 million barrels was reported last week, versus expectations of a 2 million barrel drop.
US crude inventories plunged 20 million barrels over the previous two weeks, the deepest two-week draw on record, Energy Information Administration data showed on 10 July.
Worries of supply disruption from the Middle East eased somewhat on hopes the West would soon resume talks with Iran over its disputed nuclear programme.
But investors remain concerned about interruptions to supplies from other major exporters such as Libya. Armed protesters stormed the eastern Libyan oil port of Zueitina demanding export operations be halted, a witness said.
– Upstream.