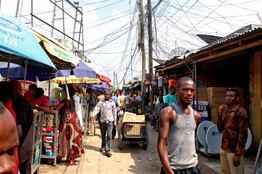 12 August 2013, Abuja – Residents of some satellite towns in the Federal Capital Territory, FCT, and neighbouring communities in Nasarawa State now enjoy stable power supply, as some businessmen have taken over the distribution of electricity to households and commercial outfits in the areas.
As the trade thrives, particularly in Karu local government area of Nasarawa State, the Nigerian Electricity Regulatory Commission, NERC, has declared it illegal.
It was learnt that because of the constant power failure in parts of Nasarawa close to the FCT and Karu, which sits on the fringes of the Federal Capital City, FCC, the businessmen in collaboration with landlords and community leaders acquired transformers under self-help initiative to boost power supply to the areas.
Findings revealed that because of the patronage it enjoyed, some money-seeking individuals have taken the business to a full commercial height where they operate like distribution companies. The "operators" buy transformers and retail electricity to make huge profit, relegating the Power Holding Company of Nigeria, PHCN, to the background.
Consequently, the distribution of electricity in Karu, parts of Nasarawa and some satellite towns in the FCT is now firmly in the hands of such individuals and not the PHCN.
It was discovered that the unwholesome act involves key officials and engineers of PHCN, freelance engineers, technicians, wealthy individuals and members of the various communities in Karu and parts of the FCT.
A local resident of T. Y. Burati Street in Mararaba, Vincent Jatau, told our correspondent that the problem started in 2008 when the area was thrown into darkness for months and some places for more than a year. "We were in darkness for about seven months and nobody cared about our situation; the 11KV line that supplied our transformer packed up and, after a series of repairs by PHCN, it was abandoned, leaving us to our ingenuity," he said.
The retailed electricity is nicknamed "24 Hours Line" by the people it serves due to its reliability. Distribution to homes of buyers is by special cables coated in black and clearly separated from the general PHCN distribution 11KV lines. The web of the cables transverse the greater part of Karu and other satellite towns of the FCT.
– Agbo-Paul Augustine, Leadership