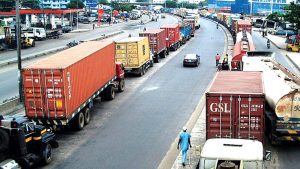 Vincent Toritseju
Lagos — The Trucks Transit Parks Limited, promoters of the Eto platform otherwise known as the Electronic Call up System has said its involvement in the management of traffic in and out of the Lagos ports has brought about a reduction in the port congestion and a decrease in the cost of moving cargoes by as much as 65 percent.
Speaking to Newsmen to mark two years of managing traffic in and around Apapa and the Lagos port, TTP's Managing Director, Mr. Jama Onwubuariri said that businesses that were abandoned are beginning to return.
TTP boss explained that the firm has commenced plans to extend the traffic management system to other categories of vehicles like tankers.
"We also heard that people, even people we know personally that abandoned their homes in Apapa because of the traffic situation are also beginning to return, some sold their homes some could not sell because nobody wanted to buy due to the traffic situation that has greatly improved.
"In 2020 and 2021, you can hardly book an Uber and have them come to pick you up because of the situation then but the narrative is beginning to change.
"We are also working with relevant authorities to now extend this to other categories of traffic you may coming to office. You may have seen some tankers heading towards to Apapa area that are still lining up on the roads so I make bold to say we are not yet managing the tanker traffic, that is why you still see them littering the roads without coordination".
"TTP has processed over 1,164,875 port and non-port-bound trucks via the Eto traffic management system Contributed massively to over 65% reduction in the cost of moving cargo to and from Lagos ports via traffic mgt and efficiency massive improvement in truck turnaround time and throughput from 2 weeks to an average of 3 days Onwubuariri said.
This is as over 85,000 Trucks registered on Eto platform with about 10,498 users and over 90 parks are electronically connected.
"We are proud to mark this milestone, and to see the positive impact that our technology has had on the industry," said Mr. Jama Onwubuariri, Managing Director & Co-founder of TTP. "Our commitment to delivering innovative solutions has allowed us to revolutionize the way that cargo is transported in and out of Lagos ports, and we are confident that our continued growth and success will bring even greater benefits to the industry in the years to come."
Follow us on twitter