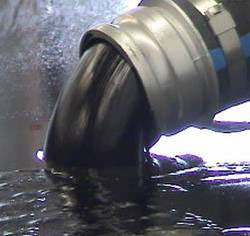 24 April 2014, News Wires – Canada will require that the use of older rail cars for carrying crude be phased out within three years, even though the US has yet to make such a rule change, according to a report.
The unilateral move is a response to recommendations that followed an investigation into a fiery rail-car derailment in Lac-Megantic, Quebec, last July that killed 47 people.
The faster phase-out of older cars in Canada raises the possibility that these cars will be diverted for use exclusively in the US if Washington does not move with similar speed, according to Reuters.
Norfolk Southern chief executive Charles Moorman told the news wire on Wednesday that if US regulators also order a fast phase-out, it could have a "limiting impact" on the shipment of crude by rail and "would probably present some problems for us".
Within 30 days, Canada's government will also prohibit use of the most dangerous of the older tank cars for carrying crude oil or ethanol, Reuters reported. The cars are considered dangerous because they lack continuous reinforcement of their bottom shells.
Transport Minister Lisa Raitt suggested earlier this year that Canada would act in concert with the US to improve rail safety, but appeared now to have decided that a rapid phase-out cannot wait.
"As North America's integrated market necessitates close cooperation, it is important that in the longer term, Canada harmonises with the US to the greatest extent possible," Canada's Transport Department said on Wednesday in a document seen by Reuters.
"However, in this area, Canada will move more aggressively to address the safety concerns of Canadians," it said, adding that its objective would be to meet or exceed any new standards the US might develop.
The document is the government's response to recommendations from its Transportation Safety Board stemming from the Lac-Megantic disaster.
The type of cars that derailed and exploded in the center of the small Quebec town last July are known as DOT-111 cars, and are seen as being vulnerable to puncturing and leakage.
Some 228,000 of the older tank cars remain in service in North America, with 92,000 of them being used in flammable liquid service, a Canadian government-backed review found in February.
– Upstream