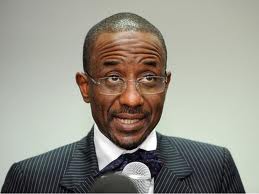 …Urges Abia to end IGR woes with cashless policy
YEMIE ADEOYE 16 August 2013, Sweetcrude, Lagos – The Central Bank of Nigeria, CBN, has said through its newly- created department of consumer protection, it had assisted customers to recover over N9 billion excess charges that were imposed on them by commercial banks.
The Branch Controller, CBN, Abeokuta, Mr. Olumuyiwa Joawo, said this during a sensitisation forum organised by the consumer protection department of the CBN in Ogun State.
Joawo said the sensitisation exercise would ensure a level-playing field for all concerned. He added: "It is worthy of note that within the last one year, in pursuance of consumer protection mandate, the CBN, through the department was able to assist consumers to recover over N9 billion excess charges by banks."
The central bank official also said public confidence and consumer trust was being entrenched in the economy, arguing that various initiatives of the CBN would help to spur growth in the economy.
On his part, the Deputy Governor, Financial System Stability, CBN, Dr. Kingsley Moghalu, said the central bank was desirous of raising the level of awareness and understanding of financial products and services as well as to enhance efficient use of financial resources.
He further said: "In pursuit of the financial inclusion strategy, we have developed a Financial Literacy Framework, a document which articulates a strategic direction for a multi-stakeholder approach to the delivery of financial education programs across different target groups of the Nigerian population."
Meanwhile, the CBN Wednesday also carried out an enlightenment campaign on the cashless policy in Abia state, urging the state government to embrace the policy to shore up its internally generated revenue, IGR, which is presently very low.
The Deputy Governor (Operations), CBN, Mr. Tunde Lemo, who led the CBN team to Umuahia said the CBN was ready to collaborate with the Abia state to enable the state enjoy the full benefits of the cashless policy.
Lemo said Lagos state that adopted the policy earlier now had monthly IGR of about N29 billion as well as Ogun state, where four educational institutions had adopted the policy.
Abia was among the five states where the policy aimed at reducing the dominance of cash in the system was extended to since July 1, 2013. The implementation of charges above the prescribed limited was shifted to October 1, 2013.
The CBN deputy governor explained the enforcement of the charges for those that wish to withdraw above prescribed limits was to allow for more enlightenment and education of all stakeholders.
He said Abia was included in the cashless initiative last month because the state remained the commercial nerve centre of the South-east with high level of financial transactions, adding that deployment of e-payment channels would fast- track commercial activities.
The Deputy Governor, Abia State, Mr. Emeka Ananaba, who represented Governor Theodore Orji, told the CBN team the state was well disposed to the cashless policy, adding that "we're excited (because) you have brought good news."