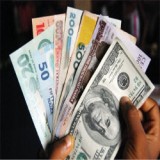 Babajide Komolafe

12 April 2012, Sweetcrude, LAGOS – The Naira, Wednesday, appreciated by 10 kobo at the interbank and official foreign exchange markets following dollar sales of $86 million by three oil firms.
Investigations reveal that Chevron sold $70 million on Tuesday, while Total sold $6 million and Addax $10 million, Wednesday.
The boost in supply caused the interbank foreign exchange market to drop by 10 kobo to N157.4 from N157.5 per dollar on Tuesday.
The official exchange rate also dropped by 10 kobo to N155.8 from N155.9 per dollar at the bi-weekly foreign exchange auction conducted by the Central Bank of Nigeria (CBN), Wednesday.
CBN offered $150 million while it sold $150 million.