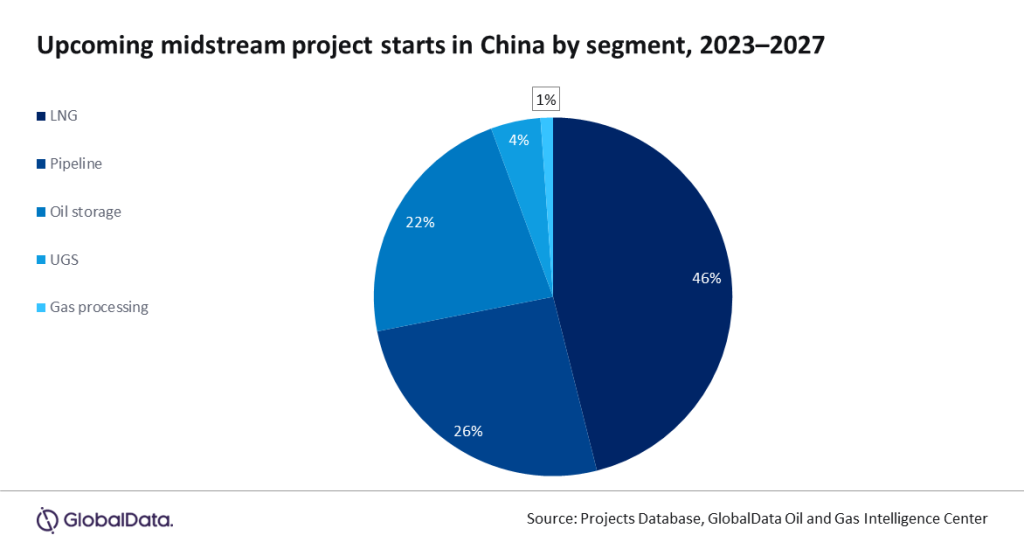 Lagos — China is likely to witness the start of operations of 89 midstream oil and gas projects from 2023 to 2027, accounting for 22% of the total upcoming midstream project starts in Asia by 2027, says GlobalData, a leading data and analytics company.
GlobalData's latest report, 'Oil and Gas Midstream New Build and Expansion Projects Analysis by Type, Development Stage, Key Countries, Region and Forecasts, 2023-2027', reveals that out of 89 projects to commence operations in China by 2027, LNG regasification projects are likely to be the highest at 41, followed by trunk/transmission pipelines and oil storage projects at 23 and 20, respectively.
Himani Pant Pandey, Oil & Gas Analyst at GlobalData, comments: "Being one of the leading importers and consumers of oil and gas in the world, China is witnessing a strong midstream infrastructure development, particularly in the LNG regasification, pipelines, and storage segments."
The LNG regasification projects will constitute around 46% of all midstream project starts expected in China during the period 2023-2027. Tangshan II Phase I, Zhoushan III, and Qingdao Phase III are the key LNG regasification terminals that are likely to start operations by 2027 with a capacity of 341 billion cubic feet (bcf) each. The three terminals are expected to further help meet the ever-growing demand for cleaner energy along demand centers in coastal China.
The trunk/transmission pipeline projects would constitute around 26% of all midstream project starts in China during 2023-2027. The Xinjiang–Guangdong–Zhejiang SNG gas pipeline is a key transmission pipeline with a length of 8,972 km. It is presently in the construction stage and is expected to start operations by 2026. The pipeline will also help in transporting natural gas from East to West China.
Pandey concludes: "Among the oil storage projects, the Zhoushan V Expansion project leads with a storage capacity of 132 million barrels (mmbbl). To be operated by Zhejiang Petrochemical Co Ltd, the project is presently in the feasibility stage and is expected to commence operations in 2025."
Follow us on twitter