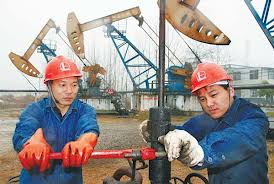 15 July 2013, News Wires – Brent futures rose towards $109 a barrel on Monday as demand growth worries ebbed after data from China showed the world's second-biggest economy expanded in line with expectations.
China's GDP grew 7.5% in April-June, and while that marked a slow down in nine of the last 10 quarters, the showing was a relief for many investors who were primed for a downside surprise. Industrial output was slightly less than forecast, but crude runs in the country's refineries and implied oil demand both rose in June, supporting oil markets further.
Brent crude gained 11 cents to $108.92 a barrel early on Monday, swinging between a high of $109.02 and a low of $108.61. US oil gained 8 cents to $106.03, recovering from a low of $105.50 touched earlier in the day.
"Overall, the latest numbers from China were in line with expectations, there were no huge surprises and it is a continuation of the soft theme," said Ric Spooner, chief market analyst at CMC Markets. "But industrial output numbers were weak, and there is growth risk to the downside, going forward."
China's implied oil demand rose by nearly 10% in June over a weak base a year earlier to 9.94 million barrels per day, Reuters calculations based on preliminary government data showed. Crude runs rose 10.8% to 9.636 million bpd, the highest daily output since February, as refineries boosted production after maintenance.
The latest numbers out of China helped oil futures extend gains. Brent settled $1.08 higher on Friday, while US crude ended up $1.04, led by the biggest surge in gasoline futures this year as a string of refinery outages stoked concerns about fuel supplies in the heart of the US summer driving season.
US crude has outperformed Brent for the past two weeks, narrowing the European benchmark's premium to US crude to a two and a half year-low of $1.32 at one point on Thursday. It was around $3 on Monday.
Big hedge funds built up a near-record long position in US oil futures in the week to 9 July, helping fuel a resurgence in the US benchmark.
The latest weekly data from the US Commodity Futures Trading Commission showed funds increased their net long futures and option positions in NYMEX and ICE US crude by more than 26,000 contracts to more than 330,000 during the period, nearing the record they held amid the Libyan civil war in 2011.
Lingering concerns of supply disruption also provided further support. Brent has held above $100 for most 2012 and this year due to tensions between the West and Iran over Tehran's disputed nuclear programme.
Israeli Prime Minister Benjamin Netanyahu said on Sunday that Iran was getting closer to the "red line" he set for its nuclear programme.
Investors are also watching the regime change in Egypt. Egypt's interim prime minister filled senior posts on Sunday in a cabinet that will lead the country under an army-backed "road map" to restore civilian rule following the overthrow of elected President Mohamed Mursi.