Cairo, Egypt — Private investment opportunities to support climate change adaptation against floods and droughts in Africa could reach a total of $100 billion by 2040, according to an IFC study published today.
Covering 43 of Africa's 54 countries, the study, "Adapting to Natural Disasters in Africa: What's in it for the Private Sector?", assessed commercially viable investment opportunities that will strengthen the continent's climate resilience and support development and job creation.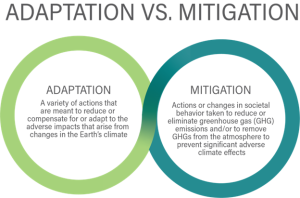 It found that many of the most promising opportunities lie in Africa's lower-income countries, including Eswatini, Malawi, Namibia, Niger, and Mauritania.
Specific opportunities include investing in weather-resistant crop varieties, crop insurance for farmers, irrigation systems to protect against drought, climate data and information systems, and building dikes to protect against coastal flooding.
"Extreme weather events are occurring with greater frequency and severity in Africa, with floods and droughts being particularly devastating. However, governments alone cannot finance the investments needed to respond. The private sector will play a key role in providing the investments that will contribute to the climate agenda," said Sérgio Pimenta, IFC Vice President for Africa. "This study shows the abundance of opportunities out there for investors that will help Africa adapt to the new climate reality and that support economic development."
Despite being collectively responsible for less than four percent of global greenhouse gas emissions, African countries are some of the most vulnerable to climate change, in part because of their heavy reliance on rain-fed agriculture and a limited capacity to respond and adapt to shocks.
Between 1990 and 2019, Africa suffered 1,107 floods and droughts, leading to nearly 44,000 deaths and at least $14 billion in damages, the study found, using data from the Centre for Research on the Epidemiology of Disasters' Emergency Events Database (EM-DAT). The study also found that since 1990, droughts and floods have lowered African countries' GDP by an average of 0.7 percent and 0.4 percent, respectively.
The study measured the upfront investments needed in each country to offset droughts and floods-induced losses, assuming unchanged severity and frequency of these events over the next 20 years. Since these disasters are likely to become more frequent and severe in the future, investment needs are likely to be even greater, according to the study.
The study comes as the United Nations climate change conference, COP27, highlights the central role the private sector can play in adapting to climate change, especially in Africa.
In fiscal year 2022, IFC delivered $4.4 billion in climate finance globally and mobilized an additional $3.3 billion from other sources, with $2.1 billion supporting Africa's green transition.
IFC
IFC—a member of the World Bank Group—is the largest global development institution focused on the private sector in emerging markets. We work in more than 100 countries, using our capital, expertise, and influence to create markets and opportunities in developing countries. In fiscal year 2022, IFC committed a record $32.8 billion to private companies and financial institutions in developing countries, leveraging the power of the private sector to end extreme poverty and boost shared prosperity as economies grapple with the impacts of global compounding crises.
Follow us on twitter