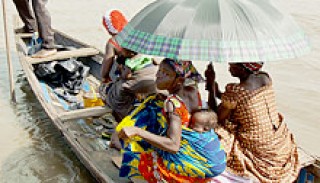 Emma Amaize
27 September, 2011, Sweetcrude, SAPELE- AJIMELE community in Sapele Local Government Area of Delta State has appealed to the Delta State Oil Producing Areas Development Commission, DESOPADEC, Warri, to complete and inaugurate the health centre initiated by the commission.
Chairman of the community, Adeyemi Agbude who made the call when the people played host to the commissioner, representing Okpe, Sapele and Ethiope West Local Government Areas on the board of DESOPADEC, Dr. Henry Ofa, said the contractor handling the project was nowhere to be found.
Commending Mr. Agbude for his appointment, the community leader also urged the commission to build primary and secondary schools in the town, saying pupils from the area were exposed on a daily basis as they had to cross the ever-busy Sapele-Warri Road at Amuogodo to get to the neighbouring schools.
Responding, Dr. Ofa said the DESOPADEC team was in the community to inspect projects, especially a solar water scheme, reconstructed by one of its contractors and asked the chairman to enumerate the needs of the community and forward same to his office in Warri through the Sapele zonal office.
He assured that better days are ahead for the Ajimele and other communities within the scope of commission, as the governor, Dr. Emmanuel Uduaghan, had directed the commission to, henceforth, adopt the "bottom – top approach" for contracts to be sited in its areas of operation.
He also stated that contracts to be executed in any community must get the approval of the host community, and not DESOPADEC officials sitting in their offices and designing projects, which do not conform to the needs of the beneficiaries.
The DESOPADEC commissioner stated that the commission would formally visit the communities to find out more about their needs and include them in 1012 budget.
As a teacher, he said he would take the issue of the school which they demanded for as a matter of priority in the next budget, and ensure it is located in the community, amongst other needs.
He inspected the solar water project that was started years back by the defunct OMPADEC, but reawarded by DESOPADEC, while the road project leading to the community from Sapele – Warri road at Amuogodo had been stalled due to the heavy rains.