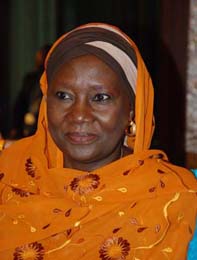 Emma Amaize
28 December 2011, Sweetcrude, WARRI – LEADERS of Bisangbene and Letugbene communities in Bayelsa State, yesterday, slammed the Minister of Environment, Mrs. Hajia Hadiza Ibrahim Mailafia over her media comments that the December 21 oil leak from the 200,000 barrels per day Bonga field, operated by Shell Nigeria Petroleum Exploration and Production Company, SNEPCo, did not affect coastal communities in the Niger-Delta region.
Two prominent leaders, Mr. Goodnews Gereghewei and Chief Alex Oboitu, who spoke for Bisangbene and Letugbene communities respectively in a statement, yesterday, said the minister should resign for standing the truth on the head.
They appealed to the Federal Government Nigeria to "come to the aid of our communities that have been impacted by SPDC Bonga oil spill by sending us relief materials/medical aid and carry out joint investigation visit (JIV) in collaboration with government agencies to ascertain the extent of damage".
In their words, "Honourable Minister of Environment, what you said on newspaper that the spill did not hit the coastline is a big lie. You have a reputation to protect, so don't tell lies. You went on over flight hence you are saying so. Please madam, tell Shell Production Development Company to take you round by boat to the spill impacted communities, then you see things yourself".
"Madam, (Minister of Environment), there is no doubt that you have compromised with SPDC to suffer the poor people. You are supposed to be there to protect the poor people and not to join hands with SPDC to kill the people. The spill has engulfed our communities.
"Hon Minister of Environment, it will interest you to know that the SPDC Bonga oil field spill that occurred on 21st December, 2011 as a result of SPDC Bonga oil field equipment failure from the Export line linking the floating production storage offloading (FPSO) to the waiting oil tanker has impacted our communities badly and the aquatic lives have been destroyed", they asserted.
According to the community leaders, "As you know, our occupation is predominately fishing. Our environment is polluted with the crude oil (hydrocarbon) gas, which is a poisonous gas".
"We the spill impacted communities members are calling on the immediate resignation of the Minister of Environment because she doesn't know her work", they said.