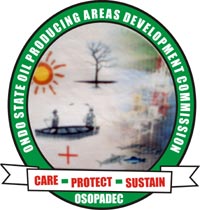 Dayo Johnson
19 February 2012, Sweetcrude, AKURE – The Ondo State Oil Producing Areas Development Commission (OSOPADEC) – an intervention agency put in place by the state government to alleviate poverty in the oil-bearing communities have said that youths in the communities are slowing down development.
The commission read a riot act to youths in the communities to embrace peace and allow contractors working in their communities to perform or face the wrath of government.
Speaking at a stakeholders forum held at Ayetoro in Ilaje local government area of the state, the chairman of the commission, Debo Ajimuda, said the youths were responsible for the delay in the implementation of development projects in the area.
Ajimuda noted that many of the developmental projects initiated by the commission in the area had been abandoned because of the activities of the youths.
According to him, many of the projects that were supposed to have been completed and handed over were still in the implementation stages as the youths had always disrupted the activities of the contractors.
Stakeholders at the forum held under the theme, "Threats to Development Initiatives: The Way Forward", charged the youths to create a conducive atmosphere for contractors working in the area to deliver the development projects awarded to them within the specified time frame.