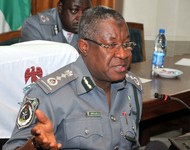 12 June 2015, Lagos – There was confusion at the Lagos ports on Wednesday as importers and clearing agents had difficulties clearing their goods following the implementation of the Economic Community of West African States' Common External Tariff.
All the 16 members of the ECOWAS, including Nigeria, had agreed to introduce a uniform import tariff, pegged at 35 per cent maximum, from January this year, to facilitate trade within the region.
Although the Nigeria Customs Service said the policy had taken effect on April 11, it was not enforced until Monday.
But the importers, who claimed not to be aware of this development, said many of them were asked to pay double what they use to pay as tariff on imported materials.
They also said the tension generated by the rate adjustment was heightened on Monday and Tuesday when they could not assess the Customs online portal.
They expressed fears that the development could result in another port congestion as many might be unable to immediately pay the new tariff.
An importer, whose consignment of electronic metal detector apparatus had just arrived at the port, complained to one of our correspondents that there was no prior notice about the adjustment in tariff, adding that she discovered on Tuesday that what she needed to pay on her goods had doubled.
The importer said she had already obtained the Pre-Arrival Assessment Report from the Customs stating the tariff she had to pay on her goods but that when she attempted to log on to the Customs portal, she could not, only for bank officials to inform her that the tariff she had to pay had doubled.
A clearing agent, who spoke with one of our correspondents on the condition of anonymity, said, "They (Customs) adjusted the rates. Ours was increased from five to 30 per cent, although we learnt that some had theirs reduced from 40 to 30 per cent, but these category of importers were in the minority.
"We could not access the Customs portal on Tuesday. My client's assessment jumped up by N2.5m. And if you pay anything less, the system will raise an alert because it is automated, and you are likely to be interrogated as if you want to circumvent the system."
But the Public Relations Officer, NCS, Tin Can Island Port Command, Mr. Chris Osunkwo, said the ECOWAS CET was a two-way tariff, adding that while some importers would have to pay more on certain goods, others would pay less.
Details of the new tariff show that a zero per cent duty is payable on goods imported under social and necessary items category; five per cent on raw materials; 10 per cent on intermediate goods; and 20 per cent on finished goods not produced locally.
Osunkwo also said in a telephone interview with one of our correspondents that while 35 per cent rate would be paid on imported used vehicles, 70 per cent had been imposed on new vehicles to encourage auto industries to assemble vehicles locally.
According to a statement by the Public Relations Officer, NCS, Mr. Wale Adeniyi, the new tariff comprises an Import Adjustment Tax list, which involves additional taxes on 177 tariff lines of the ECOWAS CET; and a national list consisting of items whose import duty rates have been reviewed to encourage more development in strategic sectors of the economy.
It stated that the Comptroller-General of Customs, Abdullahi Dikko, had directed the immediate enforcement of the tariff provisions by all Customs area commands and urged all stakeholders to comply.
He also allayed fears about fresh port congestion resulting from the ECOWAS CET implementation, noting that there were usually initial teething problems at the start of any policy.
– Punch