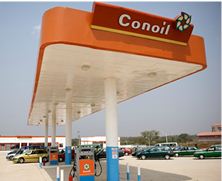 19 August 2014, Lagos – Conoil Plc has it grew its profit after tax for the financial year ended December 31, 2013 by 329 per cent to N3.07bn from N714m in the preceding year.
The petroleum products marketer's audited result for the year, filed with the Nigerian Stock Exchange, showed that its profit before tax had risen to N4.6bn from N1.15bn, a rising of 298 per cent.
The company's revenue rose by 6.4 per cent to N159.5bn in the year under review – from N149.9bn, while its earnings per share, which measures the net income for shareholders, appreciated by 329 per cent to N4.42 from N1.03.
According to the company, the impressive financial performance is the result of improved cost efficiency, significant reduction in interest expense and efficient management of the cost of sales.
In a statement on Monday, Conoil explained that revenue increase from its retail outlets nationwide, especially its new mega stations, boosted its performance.
"The remarkable performance was also augmented by additional income streams from its world-class quality lubricant products," the statement said, adding that the company had stepped up engine oil export to West African markets as well as entered into joint venture partnerships with leading car manufacturing companies.
Conoil's income was also lifted by ancillary services including marketing of Low Pour Fuel Oil, the statement noted.
The Chairman, Conoil, Dr. Mike Adenuga, had at the company's last Annual General Meeting assured its shareholders that it had a robust growth strategy that placed emphasis on continued investments and delivery of quality products and services.
According to him, the future outlook of the company remained bright as it has built stronger financial position and facilities that would create enduring value for shareholders.
The Conoil chairman explained that the company's strategy was focused on the provision of quality products and services aimed at attracting customers to its fuel and non-fuel products.
He added that the company would continue its aggressive acquisition and expansion drive that aims at increasing, substantially, the number of its retail outlets nationwide.
Adenuga said, "We will constantly develop strategies to sustain our position as the only marketer that always goes the extra mile for our ever growing customers, with total commitment to excellent service delivery. We firmly believe that such a robust strategy will ensure continued growth and stronger position in our core markets."
He also said that as part of the strategy to shore up the bottom-line, the company strengthened and consolidated its leadership position in the aviation business with investment in the acquisition of new world-class equipment to meet the demands, on real time basis, of its ever-growing local and international clientele.
The company had shown signs of the likely outcome of its full-year results by posting a 341 per cent increase in profit before tax and 329 per cent rise in its profit after tax in the third quarter of 2013.
– The Punch