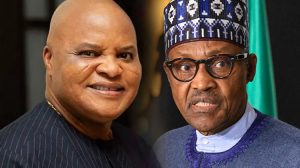 Lagos — A Federal High Court sitting in Abujam, presided over by Justice Inyang Ekwo has reinstated Senator Ifeanyi Ararume as the non-executive chairman of the Nigerian National Petroleum Company Limited, NNPCL.
The judge also nullified and set aside all decisions and resolutions of the Board of the NNPCL made in the absence of Ararume from 17th January 2022 till the date of the ruling.
The court further awarded the sum of five billion naira in favour of Ararume as damages for his wrongful removal and interruption of his term of office as non-executive director of the NNPCL.
President Buhari had in September 2021 appointed Senator Ifeanyi Ararume as the chairman of the board of the NNPC Limited but suspended a planned inauguration of the board without giving reasons.
In January 2022, in line with section 59(2) of the Petroleum Industry Act, PIA, President Muhammadu Buhari appointed the Board and Management of the NNPC Limited, with Margaret Chuba Okadigbo as the chairperson of the Board.