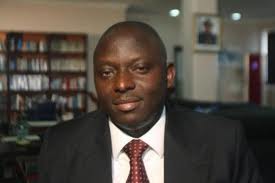 07 August 2012, Sweetcrude, LAGOS – THE Nigerian Maritime Administration and Safety Agency, NIMASA, says the intervention of Global West Vessel Specialist Limited, in securing the nation's maritime domain, has reduced crude oil theft by as much as 70 per cent.
Disclosing this to Sweetcrude in Lagos recently, NIMASA's Director General, Mr. Patrick Akpobolokemi, said the acquisition of 12 armored patrol boats will further reduce the activities of criminals stealing the nation's crude oil.
Akpobolokemi, who disclosed this during the visit of the House of Representatives Committee on Marine Transport to NIMASA, stated that the agency in collaboration with other agencies of government has arrested a good number of criminals with their vessels so much that, NIMASA has decided to keep these arrests away from the media due to the negative effect it has on the country..
He explained that besides the stoppage of the nation's crude oil theft, the agency is also making plans to stop the illegal aspect of legal bunkering noting that if the Nigerian National Petroleum Corporation, NNPC, must account for every drop of crude that leaves this country.
His words, "As far I am concerned, that is the one that is very technical and which we are already working on, so that at the end of the day we will be able to tell ourselves the volume of crude that is being exported at any point in time.
"We will get that issue resolved before the end of the year hopefully with the support of every stakeholder involved in the matter."
He blamed the cartel working inside the Nigerian National Petroleum Cooporation for the current setback that is being experienced in the maritime sector, adding that there are some people in the NNPC who do believe that Nigerians do not have to be part of crude oil lifting business.
"The same way the cartel does not want the local people to benefit is the same reason they are giving, there are people in NNPC that do not feel that it is appropriate for Nigerians to participate in that business and the absence of Nigerians in that business is costly to the country.
"That is why we do not have seafarers with the sea time experience, because, if we had ocean going vessels, it means that your citizens will work on board these vessels and you can see man power loss, revenue and capital flight, but I am happy that the government is not happy with the current situation in the maritime industry and they are doing something to change the situation.
"It beats me to think of how we got to this level because I still do not understand what went wrong along the way," he stated
Speaking in a similar vein, Managing Director of Global West Vessel Specialist Limited, Captain Romeo Itima, stated that although he could not aggregate the percentage in the reduction of crude oil theft, he believes the activities of oil thieves has significantly been reduced.