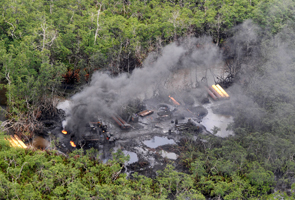 Emma Amaize
07 February 2012, Sweetcrude, WARRI – CRUDE oil thieves in Delta State have declared war on ex-militant leader, Government Ekpemupolo, alias Tompolo, for allegedly stopping them from engaging in their trade.
It was gathered that a top member of the oil theft syndicate in Gbaramatu, an Ijaw kingdom in Warri South West Local Government Area of Delta State stormed the Oporoza country home of Tompolo, to allegedly shoot him.
He was, however, overpowered by some ex-militants, who warned him of the futility of fighting their master simply because the ex-militant leader was crusading against oil theft in the state.
Following the incident, Tompolo, has beefed up his  security with specific orders on when and how visitors should be allowed to see him.
A source close to Tompolo, who confirmed the botched attack said, "Since the government gave him a pipeline surveillance contract, he has been doing his best to ensure that crude oil theft is eradicated if not reduced in the area, but the boys are stubborn".
"He knows the people that are involved in the business and their sponsors, what happened is that he had gone round the different communities where people are engaged in crude oil theft to tell them to stop the business, as government is against it, but some of them feel that it is not in his place to disturb them.
"The fact is that apart from the economic implication of their activities, they do not even know the harm they are doing to the environment. However, they said they do not want to see Tompolo and should not come to the river again to disturb them in his own interest", he added.
It was, however, gathered that the stand of the syndicate was that if Tompolo had been given a pipeline surveillance contract, he should collect his money and mind his business, as anything short of that, will be open war against him.
The renewed battled against crude oil thieves operating in the mangrove creeks of the region by the Federal Government started last month when the Joint Task Force, codenamed Operation Restore Hope was rechristened Operation Pulo Shield and mandated to block oil leakages and draining of the nation's economy.
Since January 9 when the reorganization took effect, the task force has cracked down on crude oil thieves in the region, making a lot of arrests and seizure of crude oil theft equipment.