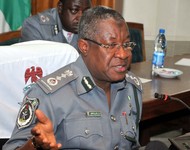 14 April 2013, Lagos  – The Nigerian Customs Service, NCS, on Friday called for enhanced synergy among government's regulatory agencies involved in cargo clearance at the ports to achieve the 24-hour mandate on cargo clearance.
Mr Wale Adeniyi, National Secretary of the customs service, made the call in an interview with the News Agency of Nigerian, NAN, in Lagos.
He stressed the need to improve the level of inter-connectivity among all the regulatory agencies, adding that the inter-connectivity existing among the agencies was at present low.
"There is need for higher level of synergy among all the agencies of government in the ports.
"It is not enough for one person to make progress; it will be better when the agencies make progress and they are interconnected with themselves.
"So, the level of the inter-connectivity is still very low and we need to improve the inter-connectivity and this is why customs is taking the lead in the issue of creating a single window environment.
"So, it will be easier for all the agencies to approach the issue of port clearance collectively."
Adeniyi also urged the government to give the customs the mandate to enable it to overcome the challenges hindering the success of the single window platform.
"It requires political will from government.
"We need support from government, we need clear understanding and we also need a mandate.
"Customs needed to be given a mandate, so we've started to build common understanding of all the agencies.
"We had workshops with them; we have reviewed our business processes; we have agreed that our processing are not fast enough currently and we need to improve them.
"We have also agreed on what we need to do to improve them and we are gradually working on this."