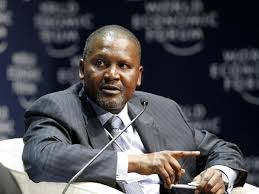 20 August 2017, Sweetcrude, Abuja – By 2020, 60 percent of the future investments of Africa's richest man, Alhaji Aliko Dangote, will be domiciled outside Africa.
Dangote plans to invest $50 billion in the United States and Europe by 2025, in renewable energy and petrochemicals.
The announcement of the investment plan is coming after he completed almost $5 billion of agricultural projects and an $11bn oil refinery in Nigeria.
He confirmed the planned investment in an interview with Bloomberg Markets Magazine.
"Beginning in 2020, 60 percent of our future investments will be outside Africa, so we can have a balance," said Dangote, who is worth $11.1bn, according to Bloomberg's Billionaires Index.
Dangote Group would consider investment in Asia and Mexico, but would focus mainly on the US and Europe, he said, adding that, "I think renewable energy is the way to go forward, and the future. We are looking at petrochemicals but can also invest in other companies."
According to the report, Dangote has diversified rapidly in the last five years, both geographically and into new industries. He has expanded the Dangote Cement Plc, which accounts for almost 80 per cent of his wealth, into nine African countries aside from Nigeria.