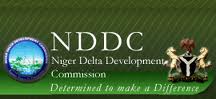 Emma Amaize &
Akpokona Omafuaire
09 February 2012, Sweetcrude, WARRI – THE Commissioner representing Delta State on the board of the Niger Delta Development Commission, NDDC, Chief Solomon Ogba, Wednesday, said the state has lost up to 30 per cent of its funds to other states in the region due to non completion of projects, earmarked for it.
Chief Ogba, who disclosed this during his inspection tour of the 6.5 km Ugbokodo-Itsekiri internal roads also warned that communities frustrating the commission's contractors from completing projects meant for their areas were doing so at their own peril.
At Koko in Warri North Local Government Area, he gave his world that the NDDC would complete the 15 km Koko -Oghehe –Escravos Road.
His words, "Delta State has not achieved up to 70 per cent of its budget at NDDC and so have lost funds to other states who work faster".
He said that NDDC projects being executved in the different communities by contractors are owned by the communities, not the contractors, and so, the communities should cooperate with the contractors to finish the projects on time.
Ogba also warned the consultants and communities that the NDDC board would not condone non completion of projects or any situation that will make the consultants to issue certificates for work done, thereby, delaying payments.
His words, "We will not allow consultants delaying certificates for payment of job done. We will resist any attempt to hinder completion of work".
"We want certificates issued on time so that money will be paid and jobs completed. Communities should not stop contractors who are handling jobs in their areas because you are only harming yourself."
Ogba expressed satisfaction at the quality and spate of work done by ARC Marine, contractors handling the project and promised that payments will be made. And work will be completed.
At Koko, he pledged, "We will ensure that more projects will be executed in the state. We commend the community for their support for the contractor handling the Koko-Ogheye- Escravos Road, saying, "we urge them to maintain the cordial relationship so that the project can be completed."