MKPOIKANA UDOMA 17 August 2014, Sweetcrude,Port Harcourt – The Association of Traditional Rulers of Oil Producing Mineral Producing Communities in Nigeria, TROMPCON, says 13 percent derivation as enshrined in the national statutes or 18 percent and 25 percent as being contemplated by delegates at the National Conference in Abuja were unacceptable to the oil communities.
According to it, anything less than 50 per cent derivation amounted to an insult on the intelligence of the people.
Explaining this to
SweetcrudeReports
in Port Harcourt, the spokesperson of the association, His Royal Highn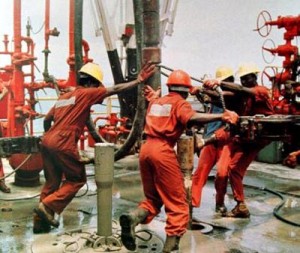 ess King Suanu T.Y Baridam, the Gbenemene of Bua-Bangha II, said: "Our believe is that, if we control our resources, it will be easy for us to develop our states and pay tax to the Federal Government".
"We have agreed that we don't need 13 percent or 18 percent or 25 percent derivation. We need 100% control of our resources, but, by virtue of discussion (because we don't want to be looked at as greedy people), we could accept 50 percent.
"We had made these known to our representatives at the National Conference. We have been told that some people said 15 percent and 18 percent, but we here in TROMPCON say, that is not acceptable to us because we are talking about our own resources".
King Baridam, who is also the spokesperson of the Supreme Council of Ogoni Traditional Rulers, wondered what will become of the oil producing communities, already degraded by oil activities, after the extinction of the oil.
"Today there is oil which will one day finish, but what will happen to us when it is finished? What are we going to do? What about those of us who are from Ogoni, that our lands and our well being have been destroyed due to oil activities? What is going to be our gain? The only thing we can do is to allow the Federal Government take 50% and give us the remaining 50 percent. That is our position," he said.
Absolving the Niger Delta youths of blame over their threat to shut down oil activities in the region if oil producing states were not allowed to control their resources, the Gbenemene Bua-Bangha II, who is also a member of the Rivers State Council of Traditional Rulers, noted that the agitation of the youths was for the region to control its resources.
"The agitation of our youths is that we control our resources. We have made it very clear that it is not a threat and that if they (government) did not give to us what belong to us, of course, we will not have any reason not to stop them (oil companies) from operating. Thank God that the youths have come up to say that, and we as fathers will support them,' he stated.
King Suanu added: "When we talk of resources, I want people to understand these: the North has their resources, the West has their resources. There are places in Nigeria where you have gold, there are places in Nigeria where you have diamond and every other kind of mineral resources. But, why the concentration on oil?"