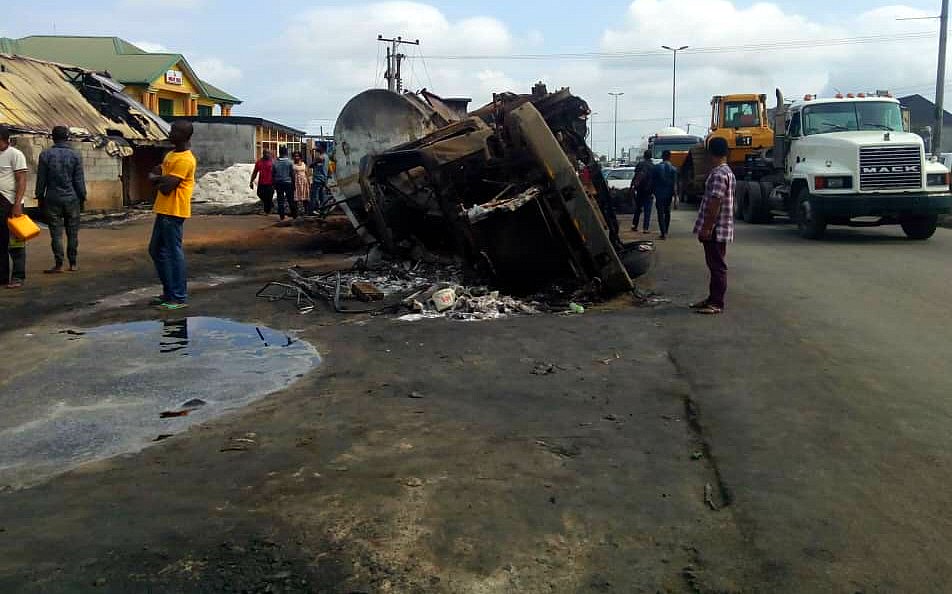 Mkpoikana Udoma
Port Harcourt — Properties worth millions of Naira have been destroyed as a diesel tanker laden with 50,000litres of product tipped over and caught fire along Rukpokwu, Airport Road in Port Harcourt.
SweetCrude gathered that the incident occurred around 11 pm on Friday night, when the tanker was trying to negotiate a U-turn, as some of its tires climbed the road median, causing the truck to fall on one side which resulted in a fire outbreak.
When our correspondent visited the scene of the incident, several shops and buildings have been completely razed, but an eye witness identified as Emmanuel disclosed that Fire Service was repeatedly called but to no avail.
Emmanuel explained that it was passersby that helped fought the fire using water mixed with detergents and sand.
"One of my neighbours called the fire service many times to report the incident to them, but they did not answer, it was some boys around that started mixing sand with water and pouring it on parts of the building that was yet to be destroyed by the fire that stopped the fire from consuming the entire shops at the next building."
Emmanuel also said some youths who pretended to be helping in putting out the fire, started looted shops that were not affected by the fire.
According to him, "Some boys who came around to help, started burgling some shops and looting items from it in the midst of the confusion and thick smoke.
"They were many, although we thought they were trying to help quench the fire, it was when they started running away with some expensive items that we knew that they were thieves."
Meanwhile, the Rivers State Petroleum Task Force has blamed the diesel tanker fire incident on the bad state of the road, as well on the rickety nature of the tanker
Head of Operations, Rivers State Petroleum Task Force Zone 1, Mr. Kingsley Nwahu, said "the bad road contributed a lot to this accident. Secondly, the truck was in bad shape, it was an old truck, the tires and axles were all in bad shape.
"Tanker drivers should always put their trucks in good working conditions, I can't imagine a driver conveying 30,000 to 50,000 litres of AGO in such a truck."
However, the Rivers State Police Command has confirmed the incident, assuring that the incident will be investigated and culprits brought to book.
Police Public Relations Officer, Rivers State Police Command, Nnamdi Omoni, said "The police is aware of the incident, although we have not made any arrest yet, because our primary interest has been to ensure the safety of lives and property in that area.
"We are going to make sure that does persons whose acts directly caused the accident is arrested."