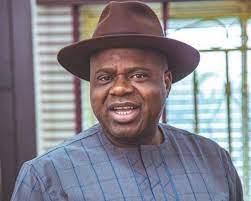 – Says obsolete oil facilities destroying Niger Delta environment
Yenagoa — 
Bayelsa State Governor, Sen. Douye Diri, has lamented what he described as the slow pace of the
implementation of the Petroleum Industry Act
, PIA, 2021, especially in the aspect of the Host Community Development Trust.
Diri also disclosed that the people of the Niger Delta were not happy with the allocation of a paltry 3 percent of oil companies' operating cost to the host community, while a whopping 30 percent of the Nigerian National Petroleum Company Limited, NNPCL, profit is earmarked in the PIA for frontier explorations.
The governor spoke at the ongoing Nigerian Oil and Gas Opportunity Fair, NOGOF, 2023 organised by the Nigerian Content Development and Monitoring Board, NCDMB, in Yenagoa, the Bayelsa State capital.
Represented by the Commissioner for Mineral Resources, Dr Ibiere Jones, the governor lamented that "the goose laying the golden eggs was being neglected", citing lack of federal presence in the state especially in the area of road infrastructure.
He also lamented that obsolete facilities by oil operators were destroying the Niger Delta environment, saying that most facilities were installed over 50 years ago and wondering why stakeholders do not talk about opportunities in servicing and replacing oil facilities.
"The people of the Niger Delta are unhappy that the host community is given a paltry 3 percent and 30 percent goes for frontier explorations.
"The PIA implementation is slow, we think as a government, you (NNPCL and oil operators) are depriving the little benefits accruable to the host communities. Did you not plan to implement PIA?
"It has been two years after the passage of the PIA, but it is only SPDC (Shell Petroleum Development Company) who has written my office that they will inaugurate the Board of Trustees next Tuesday," he said.
He added: "Unemployment is high in Bayelsa State, we need stakeholders to synergise with the state government to train our youths.
"I also want to talk about obsolete facilities. Recently, there was an oil leak in a facility (Christmas tree) operated by NNPCL in Nembe. After the leak was reported, we found out that the said Christmas tree was installed in 1969. I want to urge NNPCL and oil  operators to ensure safety in our environment."
For his part, the Director General of the Nigerian Maritime Administration and Safety Agency, NIMASA, Bashir Jamoh, called for concerted efforts to develop the nation's transportation sector.
Jamoh, represented by the Director, Cabotage Services, Rita Iruapa, pledged the commitment of NIMASA to pursue policies that will boost and enhanced indigenous participation in the industry.