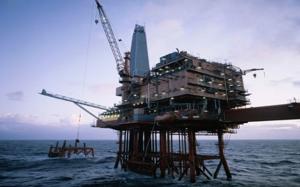 Clara Nwachukwu
26 June 2012, Sweetcrude, LAGOS – THE Department of Petroleum Resources, DPR, has expressed concern over the continued decline in Nigeria's oil and gas reserves."For the first time in many years, Nigeria's oil and gas reserves are on the decline."
The petroleum industry regulator attributed the decline to the lack of investments in the sector over the last five years, on account of the non-passage of the Petroleum Industry Bill, PIB. The Director of DPR, Mr. Osten Olorunsola, expressed the concern when members of the House of Representatives Committees on Gas visited the DPR Headquarters in Lagos, in line with their oversight functions.
Olorunsola noted that it will take the country another five to six years to recover from the lost time, and argued that the situation called for urgent investments by both the indigenous and foreign companies in the sector.
He put the country's oil production at 2.5 million barrels per day, while gas production stood at 8.0 billion cubic feet per day,bcf/d,of which 5.2 billion is from associated gas and 2.8 billion from non-associated gas.
He said that the country's gas utilisationcurrently stood at 6.6bcf/d, while gas flaring in the country is about 1.4bcf/d.
Olorunsola, however, said that gas flaring in the country has reduced from 1.4bcf/d to 1bcf/deven as flare down process remained slow as government battles the challenges of flaring.
Gas monetisation
Accordingly, he said there is the "need to create more revenue from gas; we should monetise the domestic gas to develop the country.Nigeria has not commenced gas exploration, which is the next step for the government to look into." In view of the slow development of the nation's gas resources, and the absence of a robust legislative and commercial framework for gas, Olorunsolacalled said that enactment of a new gas act.
He argued that the existing Gas Master Plan is fraught with a lot of challenges in view of the underdevelopment of the domestic market for gas, inadequate funding (cash-call issues), as well as inadequate gas transmission and distribution infrastructure, and insecurity in the Niger Delta.
Notwithstanding these challenges, he noted that the Federal Government has made a series of interventions over the past decade to fast track gas development, adding that the next steps are for the: Implementation of major gas grid infrastructure to enable delivery of gas to Power and other end users.
He noted that Nigeria ranked 8th in the world gas reserves and first in Africa, and reserves could grow up to 600 trillion cubic feet if properly harnessed.
Olorunsola said that the legal and regulatory framework for the petroleum industry was written primarily for oil, and does not provide a complete commercial framework for the development of gas. There is therefore, the need to strengthen it with a new gas act, which will underpin the sector reforms.
He said that there is need to invigorate the development of infrastructural backbones (pipeline transportation network), adding that real time monitoring of pipelines, facilities and production will help track production performance.