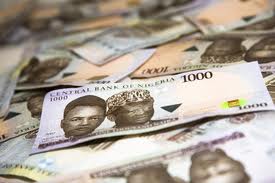 06 August 2013, Lagos – The Department of Petroleum Resources, DPR, raked in N470 billion revenue in the first six months of the year, the House of Representatives Committee on Petroleum Resources (Upstream) has said.
The Chairman of the Committee, Hon. Muraina Ajibola, who stated this during the committee's oversight visit to DPR in Lagos, yesterday, said the figure exceeded the target given the agency.
He said the revenue target given DPR for the period was N383.754billion, while the agency exceeded its revenue target by over N86billion within the period.
"I am happy to tell Nigerians that after our proper scrutiny of their papers, we discovered that DPR has generated a total sum of over N470 billion. Of course, clearly they (the agency) have exceeded their target by a total sum of N86 billion.
"Except for the capital implementation of budget 2013, where the performance appears a bit low, but in totality, the agency is doing well towards revenue generation," he added.
Ajibola said the Committee and DPR discussed issues on Internal Revenue Generation to aid the agency in its operations, which he explained, is always on the increase, adding that the DPR has agreed to articulate its responsibilities and requested for ways to assist it in passing a bill to allow the agency generate revenue internally.
He urged the Federal Government to implement the recommendations and resolution of the Committees set up by the House to address crude oil theft in the country. He said the committee has asked the government to assign dedicated telephone lines to DPR and make it public to curb issues of pipeline vandalism and oil theft. The lines should be recorded with the security agencies, he said.
Ajibola also advised that all export terminals be manned by security personnel to identify oil thieves, adding that government should also introduce scientific mechanical readers to monitor the pipelines.
He said "We advised the Federal Government to allow the host communities to assist in informing relevant authorities on oil theft and pipelines vandalism in the country."
In his remarks, the Director, DPR, George Osahon, expressed appreciation for the visit of the committee and its promise to assist the agency. "I am particularly grateful to the Committee on their observation towards allowing the agency to internally generate revenue to support its operations.
"We are constrained due to the limited sources of fund that we have, which affects our operational system. We will appreciate the Committee in assisting the Department in addressing salient issues affecting it."
Osahon urged the agency to address crude oil theft in the country, saying the Committee is in a better position to assist the Department in achieving its objective of effective regulation.
– Emeka Ugwuanyi, The Nation