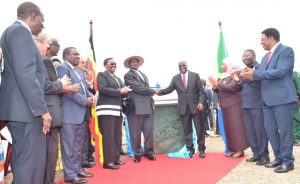 06 August 2017, Tanga — Work on the pipeline that will take Uganda's crude oil to export markets has begun after Tanzanian President John Magufuli and his Ugandan counterpart, Yoweri Museveni laid the foundation stone at Chongoleani, in the port city of Tanga Saturday.
President Museveni arrived in Tanzania on Friday evening for a two-day state visit.
The pipeline, estimated to cost $3.55 billion, will transport Uganda's crude oil from Kabaale, in the western Hoima district, to Chongoleani peninsula, near the Tanga port in Tanzania.
Construction of the 1,445km line is expected to start at different points.
After the ceremony in Tanga, the two leaders are expected to also launch the building project in Hoima at a later date.
According to the project report, the 24-inch diameter pipeline will move 216,000 barrels of oil per day at a cost of $12.2 per barrel.
The pipeline will be preheated and covered 1.2 metres underground. There will be temporal facilities such as coating plants and pipe storage yards, access roads, burrow pits, hydro-test dams, a marine terminal and a jetty.
The pipeline is expected to be completed by 2020.

*The East African