*Key oil and gas projects tied to policy incentives to boost struggling economy
Lagos — The Government of Ecuador plans on attracting $19 billion of investment into its oil and gas sector at a time, according to GlobalData, where the industry is trending on shedding non-core assets and transitioning towards renewable and low-carbon projects. The leading data and analytics company notes that the government may struggle to get bidders for its upstream plans, which include three bidding rounds for exploration and exploitation activities.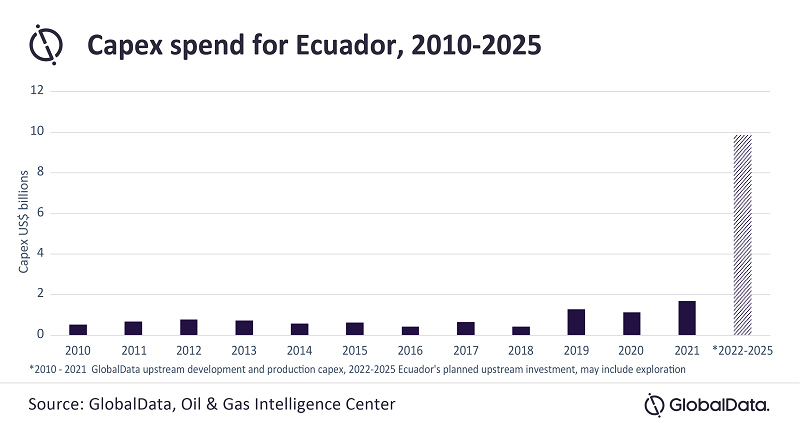 Effuah Alleyne, Senior Upstream Oil & Gas Analyst at GlobalData, comments: "The Ecuadorean government's plan to bring $19 billion in investment is occurring when oil and gas companies are diversifying their portfolios. Upstream investment, which accounts for $9.86 billion of the total, is 5.85 times higher than 2021's development and production (D&P) capex and roughly equal to D&P capex spent between 2010 – 2021. It makes sense that the government seeks its economic boost through an established industry – Ecuador is the fourth largest crude oil producer in South America – however despite some governments commitment to cleaner energy, it remains that there is a reliance on traditional sources including oil, gas and coal presenting as the main drivers for economic growth and power generation."
With international oil firms focusing on core markets and moving towards low-carbon solutions, Ecuador's government will likely struggle to gain enough competitive bidders to participate in bid rounds, and any that do bid may not have the requisite experience to reduce operating costs while increasing productivity. With the country's current production below 500mbd – and a goal of 1,000mbd – it will certainly be a challenge that requires committed investors.
"The expected boost in crude production is welcome as it will support current crude export revenues, as well as provide funds to develop domestic power generation from natural gas as the country moves to less expensive, low-carbon alternatives in support of domestic needs," Alleyne continued.
In conjunction with access to key resources, the government also intends to increase its business appeal by reviewing hydrocarbon laws, renegotiating existing service contracts for more agreeable terms and continuing production sharing agreements.