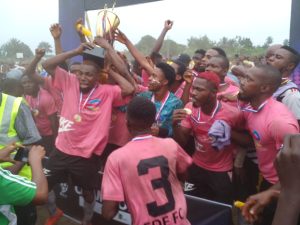 Mkpoikana Udoma
Port Harcourt — Ede community in Egi kingdom has emerged winner of the 2022 NNPCL/TEPNG football competition for OML58 communities in Rivers State.
Ede community clinched the 2022 OML58 championship trophy for the first time since inception of the tournament in 2002, after beating Obagi community 4-3 on penalty in the finals, while Elele-Okinali came third.
Speaking at the closing ceremony of the 2022 competition, Deputy Managing Director, JV Asset, Mr Guillaume Dulout, said the tournament was part of its corporate social responsibility, stressing that the event was a testimony of TotalEnergies' enduring relationship with her host communities.
Dulout represented by the General Manager, Community Affairs, Projects and Development, Mr Godspower Nwachukwu, announced that the company would ensure the preservation of the annual tournament despite the challenges faced.
He also expressed delight at the synergy the company enjoys with its hosts communities, noting that the recent flooding threatened the collective existence of both the company and her host communities.
According to him, NNPC/TotalEnergies JV is proud to be part of the competition and will continue to promote and sustain spilss development and other schemes targeted at youth development including the area of sports sponsorship for discovery of young talents.
"It is my pleasure and honour to welcome you all to the grand finale of the 19th edition of the annual OML 58 Football competition organised by TEPNG/NNPCL Joint Venture for teeming youths of our OML 58 communities.
"This football competition is a unique project that has become one of the hallmarks and testimonies of an enduring relationship between NNPCL/TEPNG Joint Venture and our OML 58 host communities.
"I am glad to announce to you that it will be preserved, notwithstanding the challenges we face today particularly the transition to the Petroleum Industry Act which has given the right to the development of the host community to the Host Community Development Trust.
"I would like to commend all the teams that have participated in this competition for their fair play and show of soccer artistry displayed throughout the competition. I am also pleased with both the technical committee and the talents scouters that have been around and were able to identify some budding underage potentials."
Also speaking, the Acting Chairman, Rivers State Football Association, Mr. Ibigoni Benjamin-Akobo who applauded the oil firm for consistency in sponsoring the competition, appealed to Total Energies to set up OML58 Football Club to play in Nigerian professional football league.
"Over the years, you (TotalEnergies) have been available in making this competition a success.
This tournament must go back to the youth, so that we can have these players from the community attached to professional leagues.
"Let's have an OML58 FC and have register them with the Rivers State Football Association, the players selected from the communities. You will have many ambassadors from your host communities.
"Like Oliver Twist, we have played for peace for too long, it's is time to play for empowerment. We at Rivers State FA are excited to partner with you, and we will be eilling to support you in anyway."
Follow us on twitter