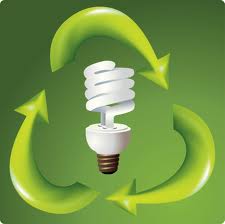 16 October 2012, Sweetcrude, LAGOS – AS part of efforts to complement the Federal Government's campaign on energy conservation/efficiency across the country, EKO Distribution Company has launched energy saving bulbs also known as LED (light emitting diodes).
The Chief Executive Officer, CEO of Eko DISCO, Mr. OladeleAmoda, said the move is aimed at creating awareness for electricity consumers within zone on the advantages of using LED bulbs, which will reduce the cost of energy consumption in the country.
Speaking to newsmen at the company's Head office in Marina, Lagos, during the launching of the bulbs, Amoda said, "Energy saving bulbs have been around for a couple of years. But they only got popular in 2007, after the Austrian government decided to ban standard bulbs and replace them with energy saving bulbs. This reduces carbon dioxide emissions, which is environmentally friendly. Energy saving bulbs are said to be five times more efficient than standard bulbs."
Commenting on the lifespan and consumption rate of the newly launched bulbs, the Eko boss explained that LED bulbs last upward of 60,000 hours before needing replacement.
"LED light bulbs use about half the wattage of fluorescent lighting, about six watts of power versus 14 watts of power for a Compact Fluorescent Light (CFL) light bulb.
"For a LED bulb's lifespan, about 340 kilowatt hours of electricity is used. CFL bulbs used over 60,000 hours (6 bulbs) will use around 840 kilowatt hours of electricity. As far as energy efficiency goes, LED light bulbs are about 5 times more efficient than fluorescent lighting."
Stressing the need for electricity consumers to embrace the use of energy saving bulbs, Amoda said, "Embracing energy efficiency and conservation can therefore make significant impact on system stability and reliability. Energy saving derived from efficient usage and conservation can be diverted to commercial and industrial usage.
"The rising cost of fuel and electricity makes the need to conserve energy every more evident and the growing need to adopt environmental friendly technology and renewable energy."
He listed projects earmarked for completion before year end in the zone to include the reinforcement of critical 33KV, 11KV feeders and rehabilitation of distribution substations for effective evacuation and distribution of power into all customers of Eko Zone and the replacement of obsolete 33KV and 11KV Switchgear in various locations among others.