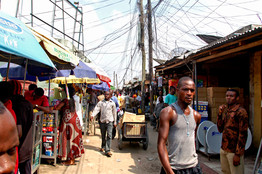 13 August 2013, Abuja – Nigerians have condemned the poor supply of electricity across the country for about five days now.
While some described the development as a setback to the ongoing reforms in the sector, others wondered if the Federal Government was actually sincere and ready to address the rot in the system.
This is coming as officials of the Federal Ministry of Power kept mum when our correspondent requested to know the amount of electricity currently generated in the country.
Meanwhile, our correspondent also gathered that the abysmal power situation in the Federal Capital Territory was due to the 25 per cent drop in the supply of electricity to the Abuja Distribution Company from the national grid.
Speaking on the development, Mr. Cheta Nelson, a trader in Ojo, Lagos, said business in his area had been slow following series of interruptions and outright blackouts witnessed in the last five days.
He said, "Considering the many hiccups in the power sector lately, do you think the government can achieve any tangible reform in this industry?
"We have been running our businesses on diesel lately and this is not good for small business owners at all."
In Abuja, Mr. Tony Philips, a resident of Kubwa, said power supply had been poor in the area since Friday.
He said it was high time the government stopped giving excuses as to why the country repeatedly recorded electricity collapses.
The Minister of Power, Prof. Chinedu Nebo, had on Saturday said power generation fell to as low as 2,628.6 megawatts, a sharp contrast to the over 4,000MW previously generated.
Reacting to the development, the Public Affairs Manager, Abuja Electricity Distribution Company, Mr. Adegoke Adebowale, told our correspondent that until the issue of gas leakages as stated by the minister was addressed, the situation might not improve.
He said, "Since he (Nebo) has confirmed a drop in generation; definitely, our location and many others will be affected. So, the changes you have witnessed could be attributed to that.
"We are electricity distributors and we cannot tell whether the situation will improve anytime soon. It is only the government officials and those in the generation companies that can talk about improvement in the power situation."
On the percentage decrease in supply of electricity in the FCT, Adebowale said, "We have witnessed about 25 per cent drop. Though this may not be seen as much, it has its impacts."
– Okechukwu Nnodim, The Punch