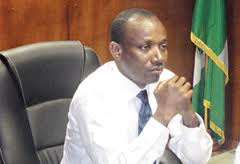 Clara Nwachukwu
26 March 2012, Sweetcrude, LONDON – From June 1, Nigerians will pay at least N12 per kilowatt hour (Kwh) of electricity, compared to the average N10 being paid since last July.
Before now, there were speculations that electricity tariff will rise by 80 per cent, which the government denied.
The new electricity tariff is part of the graduated cost-reflective measures that will guarantee returns on investment in the power sector, while also attracting the much- needed new foreign direct investment (FDI) into the sector.
In an exclusive interview in London, Chairman, Nigerian Electricity Regulatory Commission, Dr. Sam Amadi, said the increase was part of the second tariff order or Multi-Year Tariff Order (MYTO), which started in 2008.
MYTO is graduated every year, with minor monthly reviews to accommodate changes in inflation rate, exchange rate and interest rate.
Amadi said: "This cost reflective tariff that will start on June 1 is not optional, but demanded by law in reference to a series of reports which claim that the Presidency had ordered a stay of action on the increment, in view of the recent increase in the pump price of petrol."
Aggregated tariff
Under the MYTO structure, tariffs are aggregated and electricity consumers are grouped into various classes of R1 to R4 for residents; C1-C4 for commercial and industrial users and special consumers.
But Amadi noted that: "Till date, we have not granted any consumer a special status. Approval on this will depend on certain terms and conditions."
Consumers grouped under R1 will be the least paying, as their tariff is not expected to exceed N4/Kwh. This class of consumers is said to be paying less and include low-income earners, and those in the rural areas, who are benefiting from a N50 billion Rural Electrification Fund.
To standardise costs across the country, there will be no fixed charges and maintenance costs, so that consumers in this class will pay between N3.30 and N4/Kwh.
For the R2, which applies to the middle income consumers, tariff will rise by 11 per cent and they are expected to pay between N11 and N12/Kwh.
At this rate, the NERC boss insisted that costs were still highly subsidised by government, without which they would have paid between N22 and N24/Kwh.
However, unlike the R1, this class of consumers will pay "a fixed charge of N500 per month to cover investments."
The R3 and R4 customers will pay the highest among all the residents, as these are the high income earners who live in the big and mega estates across the country such as Maitama, Asokoro in Abuja, and VGC, Banana Island and a host of many others.
The new tariffs for these classes of consumers are cost directly by direct metering and will be determined under the agreements with their estate managers.
Like for the residential group of customers, the new tariff also considered the vulnerability of the C1, which comprise the Small and Medium Enterprises (SMEs).
The C1 will pay between N12 and N14/Kwh in addition to a fixed monthly charge of between N500 and N600 depending on size.
This class of customers are also enjoying subsidy because of their disadvantaged position. "They do not enjoy the economies of scale that the big companies enjoy and so they can be run out of business at any given time as we have been seeing happening," Amadi said.
He explained that the subsidies being enjoyed by the R1, R2 and C1 customers are derived from the federal allocations.
On the other hand, the C3and C4 customers will not only pay N26/Kwh but also pay a whopping fixed monthly charge of N160,000.
Defending the rational for the continued subsidy to some classes of customers, the NERC boss said this is so that they are not unnecessarily hurt or run out of business by high tariffs.
"The new tariffs have been put in such a way that variables are considered, as the tariff policy must support economic imperatives as well as support enterprise. So if you punish them with prohibitive costs, the economic purpose will be defeated," he argued.
Amadi further argued that the new tariff, will, among other things, "mitigate risks," as it is part of the measures to guarantee returns on investments, and has taken into considerations inputs from other stakeholders, investors and financiers.
According to him, "The urgency now is to attract investments to the sector, and going forward, ensure there are no distortions in the market so that investors can recover their costs and consumers get value or money through efficient and reliable services.