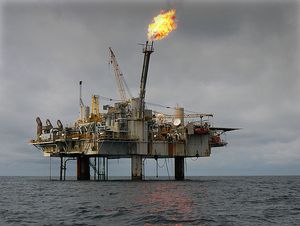 30 July 2013, Lagos – An indigenous marginal field producer, Energia Limited and operator of the Energia/Oando, Oil Mining Lease (OML 56) Ebendo/Obodeti marginal field, has restated its commitment to achieve a  production target of 15,000 barrels per day (bpd) between 2014/2015.
Managing Director/Chief Executive of Energia, Mr. Felix Ofori, made the disclosure in a statement.
He said the company's recent attainment of 5,700 barrels per day (bpd) was a step towards achieving the 2014/2015 production target, adding that the company hoped to achieve additional 2000bpd production  after the completion of the ongoing testing and initial completion of its Ebendo well 6 to boost current production  to about 8,000bpd.
Ofori said: "We expect our daily production to reach about 8000 bpd before the end of this quarter. This is close to our initial target of achieving 10,000 bpd.   The completion of well 6 will signal the beginning of another round of drilling and completion operation to commence with the drilling of additional three wells 7,8, and 9", which he said will see the company's production rise to 15000 bpd between 2014/2015.
To ensure sustainable production, he said Energia had concluded plans  to embark on upgrade of its existing flow station, and also hoped to complete and commission its 2 x 10,000 bbls crude oil storage tank this quarter, while plans are at an advanced stage for the construction of an additional 30,000 bbls tank in view of the increasing production capacity.
Announcing the successful drilling of the Ebendo well six last month, Ofori had revealed that production from the well six, schedule to begin this July, would raise the company's production to between 8,000 and 9,000bpd.
"We are presently preparing to complete this well, which we expect will add additional 2,000-3,000 bpd in July 2013. This is following another successful drilling and completion of our Ebendo well five in March 2013. Upon completion of well six, Energia is expected to produce 8,000-9,000 bpd in July 2013," Ofori had said.
He had also noted that the successful drilling of the well six had opened up more opportunities in Ebendo field, as the company already planned to drill wells seven, eight and nine in the coming months.
– Chika Amanze-Nwachuku, This Day